It appears some of AT&T's broadband customers across the United States were intentionally blocked from accessing the infamous forum 4chan over the weekend. The message board's founder Christopher "Moot" Poole posted a notice on the 4chan Status blog yesterday claiming AT&T was "filtering/blocking img.4chan.org (/b/ & /r9k/) for many of [its] customers." Poole encouraged 4chan users to contact AT&T to complain. The 4chan black out lasted for about 12 hours and was reportedly over by 11 p.m. Pacific Time.
Censorship or Network Management?
It's unclear why AT&T would block 4chan, or even if it was a deliberate action, but assuming the Internet service provider was blocking the site, it's not hard to understand why. In addition to being credited with many Internet memes including the RickRoll and LOLcats, other more dubious actions have been associated with the Website including the recent Operation Sh**ter that manipulated Twitter's trending topics; the YouTube porn prank; the Time 100 poll "hack" and the harassment of the Church of Scientology by the group called Anonymous.
UPDATE – 1pm ET
AT&T released the following statement regarding blocking of 4chan alleging the blockage was because of a denial-of-service attack:
AT&T Statement Regarding img.4chan.org
Dallas, Texas, July 27, 2009
Beginning Friday, an AT&T customer was impacted by a denial-of-service attack stemming from IP addresses connected to img.4chan.org. To prevent this attack from disrupting service for the impacted AT&T customer, and to prevent the attack from spreading to impact our other customers, AT&T temporarily blocked access to the IP addresses in question for our customers. This action was in no way related to the content at img.4chan.org; our focus was on protecting our customers from malicious traffic.
Overnight Sunday, after we determined the denial-of-service threat no longer existed, AT&T removed the block on the IP addresses in question. We will continue to monitor for denial-of-service activity and any malicious traffic to protect our customers.
As PC World's David Murphy pointed out, 4chan.org is also the target of as many attacks as its members perpetrate. DDos attacks brought the site down twice this month alone on June 8 and June 15. So it's possible AT&T was blocking the site because of problems associated with it.
Site members, however, were not so ready to be forgiving and some are already calling for a revenge prank against AT&T. One forum called "Project AT&T" was ready to get into action, but has called a temporary truce. "AT&T has lifter their ban," a scrolling message at the top of the forum says. "All rioting/'war'/protests have been suspended for the time being." Other pranks have already popped up and there is now a 4chan Twitter account to get the message board's word out.
Net Neutrality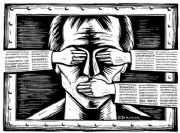 Even if it turns out AT&T's decisions were legitimate, the appearance of censorship raises the contentious issue of network neutrality — the belief that ISPs should not be allowed to block or slow down traffic to any Website. It's ironic that a major ISP would have the appearance of going against the principles of network neutrality just days after the new FCC Chairman, Julius Genachowski was confirmed by the Senate. Genachowski has been a proponent of net neutrality in the past, and is credited with convincing President Obama to support the concept. There have also been recent reports that the Federal Trade Commission may enforce Net neutrality rules on ISPs, and that some federally funded broadband deployment grants require Net neutrality compliance.
The FCC is currently in the process of adopting a national broadband strategy, during which the fate of Net neutrality could be decided. It's far from certain that net neutrality will become government policy either, despite widespread support from the public and Internet notables including Google, Craigslist founder Craig Newmark, and Jeff Jarvis, author of "What Would Google Do?"
On the one hand you have Net neutrality proponents saying that network capping by ISPs would kill innovation on the Internet since smaller companies may not be able to compete if access to their sites are restricted. On the other side are corporations, primarily ISPs, who say Net neutrality would handicap their ability to effectively manage their networks and kill innovation on the network side. AT&T recently submitted public comment to the FCC, and spent 30 pages of that document criticizing Net neutrality. AT&T reportedly urged the FCC to adopt a case-by-case strategy to network management instead of a blanket neutrality policy.
Corporate Cenorship is Bad, But Fast Internet Isn't
No matter where you fall in the network neutrality argument, I think we can all agree we don't want corporations deciding which Websites its customers can and can't see. That type of network management would basically amount to censorship and the degradation of freedom of speech. But while an anti-censorship stance is good in principle, ISP network owners say they do have to monitor and manage their network traffic to maintain quality of service.
But previous proposals to deal with network management have not been popular with the public, including bandwidth caps or some other form of stringently managed service. In a sense, ISPs seem to be caught between managing their networks while avoiding the appearance of censoring its customers.
However, some net neutrality proponents, such as Internet pioneer and Google's Vice President and Chief Internet Evangelist, Vinton G. Cerf, question the ISPs' claims about the need to closely manage broadband capacity. In a 2006, prepared statement (PDF) for U.S. Senate Committee on Commerce, Science, and Transportation Hearing on "Network Neutrality," Cerf said, "Broadband capacity is not nearly as constrained as the network owners would have us believe."
In the case of AT&T, it's hard to know what went on or why the company may have blocked 4chan. So far the only statement credited to AT&T comes from the blog CentralGadget, which is reporting that AT&T admitted to yesterday's blocking and the company says it was "following the practices of their policy department." We've dropped AT&T a line to try and get a clearer statment about its side of the story. We will update this post if more information becomes available.