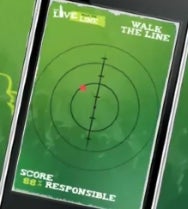 Dutch brewer Grolsch has recently launched its very own iPhone app to help drinkers determine just how inebriated they really are. The just for fun application, dubbed 'Walk the Line', was launched at the North Sea Jazz Festival in the Netherlands.
At the Dutch festival drinkers were challenged to use the new app, which uses the iPhone's built in accelerometer, to walk in a straight line. Those that failed were advised to take some time out and drink some water.
Grolsch detailed that the app was not to be used as an actual alcohol tester, and is purely just for fun. 'Walk the Line' is currently not available in the US, we have contacted the applications developer 'Marvellous' to find out why.
Update: The app developer responded to us over Twitter regarding US availability: "We built it for Grolsch in Holland, it will only go to US if they want it, we'll let you know, do u like the idea?"
Would you like to see Walk The Line come to the US store? Reply in the comments or to @geektech on Twitter.