Iolo's System Mechanic 9 ($50, 30-day free trial) is a powerful and deep set of tools for analyzing and optimizing your Windows system. It is easy to use, with an elegant interface and an extraordinary degree of customizability and fine control. Unfortunately, it has one issue that could cost some time.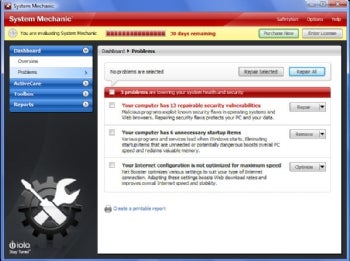 Let's look at the good first, since it outweighs the bad by a wide margin. System Mechanic 9 is one of those programs which can elegantly move from "Fire and Forget" to drilling down to the deepest levels and tweaking each option, and it does so hierarchically–so you can leave most things to defaults and then drill down in particular areas. System Mechanic 9 provides a wealth of information if you ask for it, but doesn't overwhelm you with it. You decide how much you want to know about any particular item.
System Mechanic's range of capabilities denies easy categorization; this suite combines many different tools into one integrated package. It defragments memory, makes sure your deleted files are really deleted, erases unused temp files and old Web caches, optimizes your startup routine, and more. System Mechanic also allows you to create several profiles of various sets of startup and background processes. If you're logging in to raid in Worlds of Warcraft, you don't need your Java updater lurking in the background, so you can create a "gaming" profile that deactivates unneeded background processes. You can also create an "actually doing work" profile so that you turn the Java on and the Ventrilo (You don't voice chat with your guild at work, do you?) off.
The more you poke around in System Mechanic, the more tools you find. There's an uninstaller that is faster, cleaner, and more useful than the default add/remove programs. There's easy access to many of Windows's more obscure system settings. A lot of the features here can be found elsewhere–some by spelunking through Windows, some by loading up on other programs–but having them all in one place is a tremendous time-saver.
I did find one problem. The "deep search" feature for duplicate files, despite promising "3-5 minutes," at first seemed to be non-responsive. After talking with tech support, I allowed it to run unhindered, and, twelve hours later, had found all my duplicate files and was 9% of the way through organizing a list of them. According to the support person who handled my questions, the length of time taken for the procedure was normal for a 1.5-terabyte hard drive like the one on my PC. On my notebook PC's more average-sized hard drive, the scan took 15 minutes–better, but a far cry from the promised 3-5 minutes.
Despite the glitch above, I've found System Mechanic 9 to be a very useful and powerful suite of tools, a great way to stay on top of all the things which can drag down system performance.