Traveling within the U.S. can be stressful and expensive. When it's time to dig out your passport, there's no telling what will happen (other than you'll wish you hadn't had your passport photo taken at Walgreens). Packing a laptop and other gear doesn't make international travel any simpler, either.
So, to make your upcoming globetrot a bit easier, this week I'll focus on what you need to know about recharging electronics abroad. Next week: using your mobile phone overseas.
Get Ready to Adapt
You'll need a power plug adapter specific to the country or region you'll be visiting. The adapter has just one job: to fit a two- or three-prong power cord plug from North America into a wall socket outside the continent that would otherwise reject it.
If you'll be traveling to multiple countries, try Kensington's $20 Travel Plug adapter. The adapter enables you to plug in one device in over 150 countries.
Otherwise, just buy one or two adapters (depending on how many gadgets you're packing) specific to the country you're visiting. Single-plug adapters are cheaper (about $5 to $6 each) and more compact than universal adapters like Kensington's Travel Plug adapter. The World Electric Guide will help you figure out which adapter you need. Magellan's is a good source for adapters and other travel accessory needs.
Tip: To minimize the number of adapters you'll need, and to simultaneously power your netbook and a USB device, consider Kensington's Power Adapter for Netbooks. It can recharge a variety of netbooks (using interchangeable tips) and also has a USB port.
Kensington's Power Adapter for Netbooks is a bit pricey (about $50 online), but it's less costly than the iGo series of power adapters, which also let you simultaneously charge a laptop and another device. The iGo products for laptops and other gadgets start around $60, but they also include adapters for airline seats and vehicle power outlets (which the Kensington device lacks). As a bonus, you could keep either the Kensington or iGo products stored in your laptop bag, so you won't have to remember to pack your laptop or netbook power cord before each trip.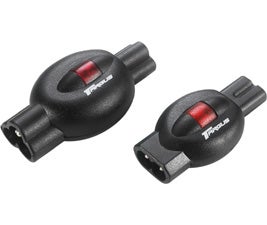 Given that current in some countries is, shall we say, dicey, you might consider traveling with a portable, universal surge protector. Targus Mini Mobile Surge Protectors are truly tiny, come in two- and three-prong versions, cost about $19 each, and work on 110-230 voltage systems. Keep in mind you'd still need a plug adapter to use one of these surge protectors overseas.
You Probably Won't Need to Convert
Aside from plug adapters, it's extremely unlikely you'll need a power converter, also known as a Switched Mode Power Supply, for your gadgets.
Converters regulate and stabilize electrical current. They're necessary when a device that operates within one voltage range is plugged into an electrical system that operates within a different range, and the device didn't come with a universal power adapter. In North America, most appliances operate within the 100-125 volt range. On other continents, 220-240 volts is common.
However, the vast majority of U.S. consumer electronics today (including laptops, netbooks, camcorders, cameras, MP3 players, mobile phones, ebook readers, and GPS devices) come with universal power adapters that can operate within the 100-240 volt range. So if your gadget's power adapter says something like "Input: 100-240VAC," all you'll need is the appropriate power plug adapter to recharge your electronics outside North America. You won't need a converter.
Most gadget power adapters work within the 50Hz or 60Hz frequencies. You're good to go here, too. North America uses the 60Hz frequency standard, while many other countries are on the 50Hz standard.
Keep on Clicking
Mobile Computing News, Reviews, & Tips
1TB Laptop Drive: Western Digital has announced a 1-terabyte laptop hard drive that's priced at $250. But if solid state drives (SSDs) are the future of storage, should you get a laptop with a hard drive or an SSD?
Top 10 Must-Have iPhone Business Apps: Need to edit an Excel file or update your Web site on the bus? If you don't want to lug around your laptop, you can use your Apple smartphone. PC World's Daniel Ionescu profiles ten of the best business-worthy iPhone apps in his recent slide show.
Get Google Voice on Your iPhone: Even though Apple recently banished all Google Voice-related apps from its App Store, it looks like Google Voice might be sneaking back onto the iPhone. New York Times writer David Pogue says that Google is developing a special Google Voice Web page that will offer the same features.
Suggestion Box
Is there a particularly cool mobile computing product or service I've missed? Got a spare story idea in your back pocket? Tell me about it. However, I regret that I'm unable to respond to tech-support questions, due to the volume of e-mail I receive.
Contributing Editor James A. Martin offers tools, tips, and product recommendations to help you make the most of computing on the go. You can follow him on Twitter http://twitter.com/james_a_martin . Jim is also the co-author of Getting Organized in the Google Era, to be published in March 2010. Sign up to have Mobile Computing e-mailed to you each week.