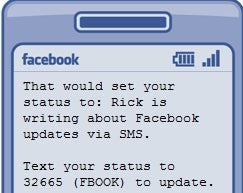 Desperately need to tell your Facebook pals that you enjoyed your day at the beach? No need to wait until you get back to your PC: You can update your status via text message.
Facebook actually offers a number of features that cater to mobile users, but let's start with this one. Step one is to register your phone with your Facebook account. Here's how:
1. Sign into Facebook on your PC, then click Settings, Account Settings.
2. Click the Mobile tab, then Register for Facebook Mobile Texts.
3. Provide your cell number as instructed, then wait for the confirmation text-message to arrive on your phone.
4. Enter the confirmation code as instructed.
That's it! Now create a new text message containing your status, and address it to FBOOK (32665, a number you may want to add to your address book for easy retrieval).
This is a great solution for folks who don't have a smartphone with a Facebook app. Any phone that can send text messages can send status updates. Find out more at Facebook's Mobile Texts page.