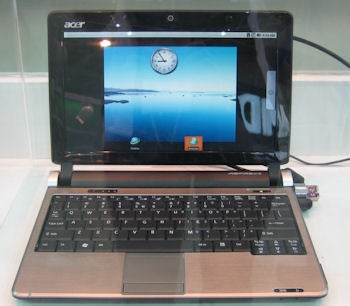 Acer remains on track to launch a version of its Aspire One netbook with Google's Android mobile operating system in the third quarter of this year, a company representative said Wednesday.
The company decided to reiterate its commitment to the project after news reports said the project had been delayed or changed.
The world's third-largest PC vendor plans to debut Android in an Aspire One with a 10-inch screen and an Intel Atom microprocessor. A similar Aspire One is currently available from Acer but it comes with Microsoft Windows XP.
At the Computex electronics show in Taipei last month, Acer displayed an Aspire One running both Windows XP and Android, prompting questions on whether the netbook would be a dual-boot machine or not. Executives at the show said the Aspire One with Android would not come with Windows XP installed.
Acer became interested in Android due to its growing popularity and the strong development movement behind the software. The PC vendor announced the Aspire One with Android a day after saying its first Android-based smartphones would launch in the fourth quarter of this year.
Acer was the first company worldwide to show an Android-based netbook with an Intel Atom microprocessor. Other companies have shown Android mini-laptops they call smartbooks, with chips from Qualcomm, Texas Instruments and Freescale Semiconductor that have ARM processing cores.
Acer worked with a Taiwanese Linux outfit called Insyde Software to port Android over to a netbook with an Atom microprocessor.