Watch out, Google, you have a new formidable competitor. Microsoft and Yahoo have today agreed to partner in a search and advertising deal that will put pressure on Google to work harder and start sweating.
For the next ten years (the length of the Microsoft and Yahoo deal) Google is going to be dealing with a new online search landscape bringing new challenges when it comes to search, advertising, and communication services.
While Yahoo is busy selling ads, Microsoft will handle search technology with its Bing search engine for all Yahoo. Microsoft can focus on search technology as Yahoo sells ads for both companies. This frees both firms to stop competing against one another and focus their big guns at Google.
Neither Microsoft or Yahoo wasted any time today identifying its target. In an apparent jab at Google, the two companies distributed a press release announcing the partnership saying the "deal will combine Yahoo and Microsoft search marketplaces so that advertisers no longer have to rely on one co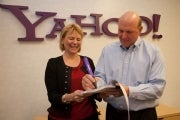 mpany that dominates more than 70 percent of all search." Google currently has about 65 percent of the U.S. search market, while Yahoo and Microsoft combined own almost 30 percent, according to the latest numbers from Comscore.
Google's Antitrust Card
If Microsoft and Yahoo have it their way the deal will be approved by government regulators fast, and the the two companies will start working together by early 2010.
However, antitrust considerations have reportedly been a source of concern for Microsoft when considering a deal with Yahoo. Perhaps that's why Microsoft didn't gobble up Yahoo today in an acquisition — and instead inked a partnership.
Nevertheless, it's a safe bet Google will be expressing antitrust concerns to the U.S. Department of Justice over the Microsoft/Yahoo partnership. In early 2008 Google did argue against Microsoft's attempt at a hostile takeover of Yahoo. Google has also raised the specter of antitrust when it comes to Microsoft's Vista desktop search capabilities and the Internet Explorer browser bundled with its operating system.
Google will have difficulty complaining about antitrust issues, considering it has been scrutinized as well, including an investigation into its own deal with Yahoo. But don't expect past run-ins between Google and Justice Department to slow it down. A critical statement about the Microsoft-Yahoo deal is expected from Google very shortly.
Yahoo and Microsoft were smart and appear to have laid the groundwork to fend off antitrust lawyers. In the deal Microsoft and Yahoo outlined today, both have specifically stated that either company's Web properties or products are included in the deal including e-mail, instant messaging, or display advertising.
Google's antitrust objections in 2008, when Microsoft and Yahoo seemed ready to ink a deal, were based on the fact that a Yahoo-Microsoft merger would create a behemoth with a huge share of the Webmail and instant messaging market. At the time, Google wondered if Microsoft would use its new dominance to exert "inappropriate and illegal influence over the Internet."
Google Readies a Defense
Google isn't shy about rolling up its sleeves and competing. Google has invaded other companies' busines
ses for many years — sometimes with little obvious financial benefit. The Yahoo and Microsoft partnership will only intensify Google's fighting spirit. And I consider that a win/win for consumers.
Google Docs must irk Microsoft, since the company is coming out with its own free online version of Microsoft Office 2010.
Then there's Google's newly announced Chrome OS, which has also caused some to wonder if Redmond should be worried about its core software business — I have my doubts about that.
When it comes to Yahoo, watch for Google to compete more formidably when it comes to services. Google's Google News competes against Yahoo News. Google may redouble its efforts to enhance its Google Voice and VoIP services, instant messaging platform, photo storage, blogging software to the forefront of the Google empire.
Google has only a small piece of the pie in many of these areas, but the company has been growing into a gigantic aggregator of information worldwide.
Google Cares Most About Ads?
But while Google has been able to push into other markets, its competitors have been handcuffed from putting up a fight in Google's primary and most substantial business: online advertising.
Yahoo will use Microsoft's underlying AdCenter technology and be responsible for selling ads against Yahoo and Bing search results. The boon here is that Microsoft and Yahoo look more attractive to advertisers because ads will reach a larger number of consumers. Both will also share search data which will help them target ads more efficiently.