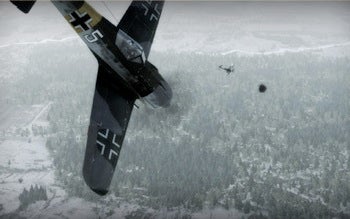 If you're wondering whether Gaijin Entertainment IL-2 Sturmovik: Birds of Prey distinguishes itself from the pack of "no…just no" gamepad flight-combat wannabes, try the demo, just up today on Xbox LIVE. It's not bad as arcade sky-shooters go. I say that as student (actually just a humble pupil) of the original Windows series by Oleg Maddox, arguably one of the greatest World War II flight-sims going. I'm not much for arcade flying games, but IL-2 kept me interested enough to rattle through "The Battle of Britain" and on to die, repeatedly, in "The Battle of the Bulge," before throwing in the towel and grabbing a cup of tea to write this.
Flight-based games fare poorly on consoles, in part because joysticks trump gamepads for maneuvering fixed-wing aircraft through 78% nitrogen, 21% oxygen. Also, because honest-to-bullets dogfights materialize peripatetically and often resolve in seconds. Imagine a first-person shooter where the enemy crops up infrequently and has to be shot indirectly based on where you anticipate they might be (as opposed to where they actually are) a microsecond forward in time. Imagine trying to whittle a speck on the horizon into an even smaller bit of flaming dreck, kind of like the sniper mission in Call of Duty 4 if you had to nail your target three or four times in a row. Now imagine a sky full of that.
The demo kicks off with a montage of grim, grainy World War II aerial combat footage, promptly trading up for high-res lushly detailed money shots of Stukas and Ilyushins and Spitfires arcing and pirouetting and ground-pounding. You're limited to single player in the demo, but you'll want to spend some time in the game options (tucked away under "profile") anyway to get a sense for functional scope. You'll notice a few PC-like settings, for instance, including three alternative camera views, an option for radio subtitles, three HUD overlays, the option to fiddle metric vs. imperial units for speed, altitude, and distance, and sensitivity ladders for ailerons and elevator controls (I know, really just X and Y thumbstick sensitivity, but "ailerons" and "elevator" sound cooler).
The tutorial runs you through flight, advanced maneuvers, and aerial combat, then it's off to battle in two conflict scenarios, The Battle of Britain and The Battle of the Bulge. The former sets you up as an RAF pilot in a Mk. II Spitfire with two cannons and four machine guns on an German He-111 bomber mop-up party that's abruptly crashed by a bunch of Stukas. The latter slots you as a USAF P-51D Mustang pilot jousting with German FW-190 fighters over a beautifully pine-stippled, snow-crowned Belgian landscape.
Brief impressions: The planes have a helpful tendency to level out rolls, but not pitching, so you'll naturally center out of turns, but still need to monitor speed and altitude. The left thumbstick channels pitch and roll with respectable accuracy, while the the right thumbstick controls yaw and throttle. In deference to arcade-flight convention, there's even a "war emergency power" (WEP) redline option to give yourself a temporary speed boost. You're rated on enemies destroyed, total mission attempts, primary and secondary goals completed, efficiency, and time.
Only quibble: There's some trouble with the skinny red font used to track enemies–it doesn't show up well against the terrain at all, making low-altitude combat (or dive-tracking) a royal pain in the tail.
Random thought: The Japanese word gaijin means "outside person," oddly enough. No, I can't read a lick of the language, but Everything I Know About Romaji Japanese I Learned From James Clavell.
Check out twitter.com/game_on for even more game-related news and opinion.