QTTabBar (free) is a moderately useful add-in for Windows Explorer that adds tabs and several other features to the Explorer interface. With it, you'll be able to quickly switch between folders by simply clicking a tab, as well as being able to perform some basic functions with new icons across the top of Explorer.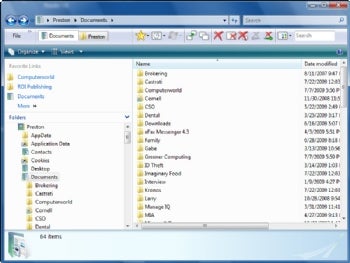 If you use QTTabBar, be prepared to muddle around for a while until you figure out how it works. After installation, you have to log off or restart Windows, then log on again, and enable QTTabBar in the Taskbar. Even when you do that, though, you've got work ahead of you, because you'll then have to turn on the menu in Windows Explorer, unlock the Windows Explorer menu bar, and fiddle with it until you expose QTTabBar's buttons.
The most important feature QTTabBar offers is switching among folders by using tabs, but you get a little more as well, such as being able to open folders in groups. Add-ins also let you perform common tasks such as deleting files by clicking a button.
Whether it will be worthwhile to do this depends on how badly you want to use tabs in Windows Explorer, and get other features such as being able to open folders in groups. If you believe having access to multiple tabs and those features is a benefit, QTTabBar could be worth the time and effort. But if tabs aren't high on your list of must-haves, you'll be better off passing on this freebie.
Note: To install it in Vista, you'll have to run the installation program as an administrator.