Yahoo's announcement of a 10-year deal with Microsoft did not mention Google, but we all know what Yahoo CEO Carol Bartz was talking about in her blog post aimed at users.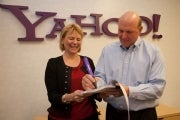 Yahoo and Microsoft are pooling their weapons to compete with the dominant Google in the search arena, which Bartz called "pretty lopsided." She says she wants the new partnership to keep the "one player" who has been dominating the market on its toes — through healthy competition, of course.
Basically, Yahoo isn't waging war against Microsoft and Google, but it rather prefers to team with the next big competitor (Microsoft, of course) and put some pressure on the giant.
Will the Microsoft/Yahoo deal make the difference between a great user experience and an awesome one? Let's see what's in Yahoo's and Microsoft's arsenal to better compete with Google.
Yahoo vs. Google
While Microsoft is taking charge of search in this partnership, Yahoo contributes a huge user base of e-mail and instant messaging users. Although Gmail gets some spotlight, Yahoo Mail remains the Webmail market leader, followed by Microsoft's Windows Live Hotmail, and then Gmail.
It's a good bet that Yahoo Mail will continue to dominate the market, while Gmail gains in popularity. Of course, Google Wave is coming up soon and likely to shake up the Webmail market, but until that happens, few changes are likely to take place.
Also noteworthy is the fact that the Yahoo and Microsoft deal does not cover the companies' e-mail and instant messaging divisions, areas in which Microsoft said the companies will continue to compete vigorously. Yahoo also competes with Google in other services, such as Flickr (vs. Google's Picasa Web Albums) and still wins.
But the biggest area where Yahoo can make serious inroads into Google's market is search advertising. Google is still making the most money out of search-related ads and similar programs, and the Microsoft collaboration could help Yahoo further expand into this very lucrative market.
Microsoft vs. Google
What Microsoft gains out of the deal with Yahoo is the number two position in the search engine rankings. Briefly, Google controls around 65 percent of the U.S. market, while the Bing takeover of Yahoo Search puts the Microsoft engine second with around 30 percent of the market.
With the launch of Bing, Microsoft brings to the table a real alternative search experience for users, offering features that Google lacks, such as video search snippets or an explorer pane with contextual search results. A detailed comparison between Google and Bing can be found in our search engine feature smackdown.
But let's not forget that this is the second time Microsoft has challenged Google's search dominance — we all remember Windows Live Search, right? Bing was received a much warmer welcome from users, and Microsoft clearly hopes Yahoo users will also be content with it.
Meanwhile, Microsoft is still trying to replicate (with little or no success) popular Google services such as Maps or News.
Might Google Lose its Grasp?
Although Microsoft and Google think they are tightening the gap on Google when it comes to search and advertising in the U.S., globally, there's a totally different picture. According to recent ComScore figures, Google controls 67 percent of the search market worldwide, while Microsoft and Yahoo have only a combined 11 percent.
Leaving predictions aside, innovation and ease of use will finally determine which search engine and advertising platform will (continue) to dominate. As my colleague Ian Paul points out, you can get almost the same information on both Google and Bing, but the difference lies in simplicity.