What do Paris Hilton, Steve Jobs, and Mel Gibson have in common? They're all on the front page of TMZ.com this morning, spied by the paparazzi for the delight of gossip fans. This could be a sign that the tech world has truly gone mainstream, or maybe the apocalypse is at hand.
TMZ published a grainy photo of Jobs exiting the Apple campus at around 3 p.m. on Wednesday. The site has taken this as proof that Jobs is back at work. "BTW — this photo was taken on an iPhone," the TMZ staff wrote.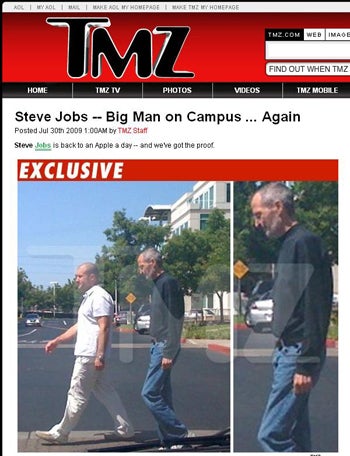 These tidbits of information will no doubt be obsessed and speculated over by Apple watchers. If the photo was taken on an iPhone, could that mean it was snapped by an Apple employee? Apple must pay pretty poorly if employees are trying to pawn Steve Jobs photos to gossip rags. And maybe Jobs should be working until 5 o'clock like everyone else. It's not like he recently had a liver transplant or anything. Oh, wait.
So, where do we go from here? Bill Gates ripping an iPhone from his child's hands? Steve Ballmer sticking his tongue out wildly — at a night club? Probably not; for some reason, techies don't bestow this kind of celebrity status on anyone but Steve Jobs.
For goodness sakes, we wrote — no less than three times — about Jobs' home remodeling plans. Reporters from newspapers as large as the San Francisco Chronicle were on that beat. We're talking about the teardown of a mansion here, which has far less relevance to technology than concerns over Jobs' health.
Not that we didn't obsess over his health. From the start of his medical leave in January to his modest return in June, coverage was wall-to-wall. That was after Bloomberg mistakenly ran Jobs' obituary.
But TMZ's coverage is a new page in the saga, more mind-blowing than the story itself. The guy is sandwiched between a story about Debbie Rowe's custody battle for Michael Jackson's kids and another about MJ's doctor. Either TMZ's readers really care about Steve Jobs, or AOL's prized gossip rag is looking for a new demographic.