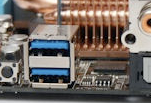 Looks like we'll be waiting a little longer for USB 3.0 after all. The Inquirer is reporting that Asus plans to ditch the snazzy USB 3.0-equipped P6X68 mobo that I wrote about last week. The highly anticipated board was to be the worlds first with SuperSpeed USB, which at 5000Mbps is about 10 times faster than USB 2.0 (480Mbps).
ASUS vaguely detailed that the cancellation is "not for any particularly interesting reasons". Curious.
Meanwhile, Fujitsu has begun shipping its USB 3.0-to-SATA bridge chip to manufacturers. As ZDNet Asia points out, the chip is ideal for devices like external hard drives. Fujitsu claims it can deliver the 5Gbps maximum data transfer of the new spec, which it estimates would allow a two-hour HD video to be copied to a 3.5-inch hard disk in three-to-four minutes.
That remains to be seen. Some reports have suggested that the first USB 3.0 products (expected later this year) may only achieve speeds of around 1200Mbps.
The wait goes on…