Motorola's second phone based on the Android mobile operating system is called Sholes and will sport some beefy specs and sleek design that will appeal to serious smartphone users, according to photos and specs leaked online. Last week details regarding Motorola's first Android phone, Morrison, were leaked online, but the phone's specifications and design failed to wow.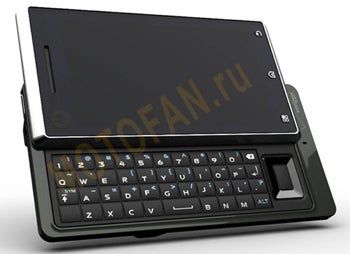 This image, from the Russian site MotoFan (link takes you to Google machine translation of site) shows the Sholes sporting a full slide-out keyboard, a 5-megapixel camera, and a sleek design — suited for adult customers. That's a far cry from Motorola's Morrison phone that, according to leaked images on the Web, features blue keyboard trims and a glowing home button, which appears targeted a younger demographic.
The new Moto Android phone is said to come in October for an unknown price, says Russian site MotoFan, which uncovered the news and pictures. It also is reporting that Motorola Sholes will run on the Verizon's EVDO Rev A network.
Featuring a 3.7-inch touchscreen, with a 480-by-854-pixel resolution, Motorola's Android-loving Scholes will come with 256MB of RAM and 512MB of internal memory. To pack in more multimedia, Scholes is said to support microSD memory cards, expanding the storage up to 16GB (8GB card shipped with the phone).
In the renderings, the Moto Scholes sports a 5-megapixel camera with autofocus. It is yet unclear whether the phone also has a camera flash (the silver line underneath the camera lens on the back might as well be just a mirror for self-portraits).
In terms of connectivity, Scholes is expected to have Wi-Fi (802.11g) on board, Bluetooth (2.0+EDR 1) and a USB 2.0 port. As standard with most smartphones nowadays, a 3.5 mm headphone jack is provided. GPS navigation is included in the feature pack as well.
Motorola's mobile handsets division has been slow in recent years to provide the market with any popular devices, hence the company's Q2 sales are down across the board. Perhaps Motorola's luck will change when and if this devices makes it on the market.