Judy Port wants to change the text color in desktop icon captions.
Microsoft doesn't provide that option, but there's a trick to turning the default white text to black. You can also turn off the drop shadows.
In fact, you have to turn off the drop shadows before you can change the color: Select Start, then Run, type sysdm.cpl, and press ENTER. Click the Advanced tab. In the Performance box, click the Settings button. Scroll down to and uncheck Use drop shadows for icon labels on the desktop. Click OK for each box.
Now that the drop shadows are gone, you can turn the letters black by selecting a light background color. If you're saying "What background color? I have wallpaper!" don't worry. There's a background color behind your wallpaper (or desktop background in Vista); you don't see it, but it effects the color of your text.
To change this color in Vista, right-click the desktop and select Personalize. Click Desktop Background. Pull down the Location menu and select Solid Colors. Click the white square (if you want white text, pick the black square). Don't worry if the desktop suddenly turns ugly. You're about to fix that.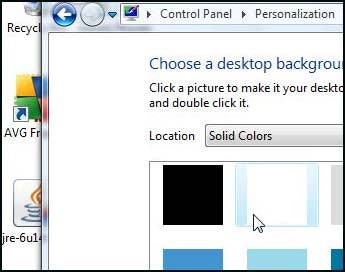 Now return to the Location menu and select the location where you'd find your wallpaper. Select the wallpaper, then click OK.
Although the same principles apply in XP, there's one big difference.

Once you turn off the drop shadows, potentially ugly boxes appear around the captions. If you pick white as your background color (like I recommended with Vista), they look particularly ugly. Choosing the right background color will improve the look of the desktop..
Right-click the desktop and select Properties. Click the Desktop tab. Pull down the

Color menu in the lower right corner and select a background color. Pick one that blends in well with your wallpaper, but if you want black text, it must be a light color. Click Apply to see how it looks.
Add your comments to this article below. If you have other tech questions, email them to me at answer@pcworld.com, or post them to a community of helpful folks on the PCW Answer Line forum.