The honeymoon is officially over, ending months of rumors — Google's CEO Dr. Eric Schmidt is resigning from Apple's board of directors after three years.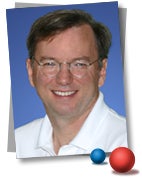 But in an interesting twist, the announcement came from Apple and not from Google.
"Eric has been an excellent Board member for Apple, investing his valuable time, talent, passion and wisdom to help make Apple successful," Steve Jobs, Apple's CEO, said in a press release issued by Apple today. "Unfortunately, as Google enters more of Apple's core businesses, with Android and now Chrome OS, Eric's effectiveness as an Apple Board member will be significantly diminished, since he will have to recuse himself from even larger portions of our meetings due to potential conflicts of interest. Therefore, we have mutually decided that now is the right time for Eric to resign his position on Apple's Board."
Hey, nothing between these two companies lately has been boring.
In May, news broke that the U.S. Federal Trade Commission was looking into whether the two corporate boards were a little too cozy with each other, but Schmidt at the time said he had no plans to resign from Apple's board. Last month, Schmidt again said that leaving the Apple board wasn't in his plans. Now he's resigning.
According to the federal Clayton Antitrust Act of 1914, a person isn't allowed to serve on boards of directors for two separate companies if the businesses directly compete. In the case of Apple and Google, that was made a bit more problematic in early July, when Google announced its Google Chrome OS netbook operating system, which heads more into Apple's turf.
As of this morning, nothing was posted early today on Google's corporate Web pages about Schmidt's Apple board resignation.
So, what's this all mean for Apple, Google and consumers?
Well, it could mean even more competition between the two companies in the future, and that makes perfect sense to me. Both companies are true innovators, with thoughtful ideas, designs, and products filling their pipelines on a regular basis. It was only a matter of time before what they are doing individually could get in the way of what they were doing in their boardrooms.
That's not a bad thing, actually. It means that they're continuing to come up with new ideas and products and that it's time to break up the marriage — which certainly had some strained moments due to product overlaps — and do their own things.
For consumers, Schmidt's resignation won't have a direct impact, certainly, but it could be a harbinger of new cool things coming from both companies in the future.
(Todd R. Weiss is a freelance technology journalist who formerly wrote for Computerworld.com. Follow him on Twitter at www.twitter.com/TechManTalking)