If you have a video (standard-def or HD), audio file, or picture you want to convert, the odds are that Xilisoft's Video Converter Ultimate ($56, limited demo) will handle the job for you. Not only that, it will handle bunches of them at the same time and even allow rudimentary start- and endpoint-editing.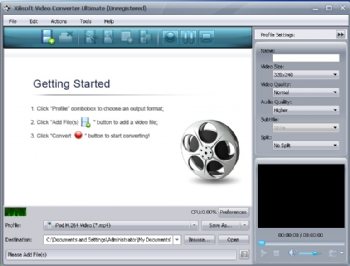 Xilisoft Video Converter Ultimate couldn't be easier to use. All pertinent options are easily discernible and readily available from the main screen. Simply select or drag the videos you wish to convert to the main window, select and output format and directory and set the program running. XVCU will convert multiple files concurrently, or you may scale it back to just one. There are also CPU usage throttle options, so you can choose to devote the lion's share of your CPU cycles to the task or allow plenty of cycles for other tasks while you're working at the computer.
I converted files of virtually every type available to MPEG and h.264 with Xilisoft Video Converter Ultimate, and output quality was top-notch. I even set XVCU to work batch converting an entire season of Psych to iPod format with nary a hiccup. Note that the demo version is limited to three minutes of output for any one file.
Xilisoft offers any number of other $20 to $30 converters, which handle individual file types. Video Converter Ultimate duplicates all their functionality and is much the better deal in the long run. If you do a lot of video converting, VCU's tires are well worth kicking.
Note: This demo version limits output length to three minutes per file. To lift this restriction, you must buy the full version.