If you're of the opinion that the world needs a browser specifically designed for power downloaders, then Wyzo (free) may well be for you. The free browser includes a set of tools that downloaders will welcome including multi-sourced downloads for faster downloads and built-in BitTorrent.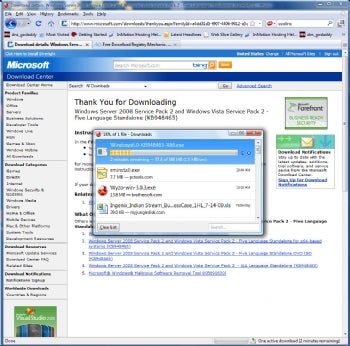 The browser will be particularly useful for those who may have heard of BitTorrent, but don't want to go through the fuss and bother of downloading a BitTorrent client and learning how to use it. You can search for torrents from within the browser, then use the browser to download and handle torrents as well.
There are a lot of other extras in Wyzo as well. Notable ones includes the ability to navigate the Web using mouse gestures, and the integration of CoolIris, which is essentially a browser add-in for searching for and viewing video content.
If you get a feeling of déjà vu when using Wyzo, there's good reason for that: It's built on the same browser engine as Firefox, and looks and works much like it. You can, for example, use Firefox add-ins with it. That means that there will be just about no learning curve when trying out this browser. But there might be a bit of confusion as well. In my testing, for example, my download history list in Wyzo was already populated with files I had previously downloaded using Firefox.
Still that's a minor issue–for many users, perhaps not even a problem. If you live to download, and are looking for another browser, Wyzo is worth a try.