Today's hot Apple rumor suggests an iPhone 3GS 8GB may be on the way. The Boy Genius Report has screen grabs that purportedly show one or more documents from Canadian wireless provider Rogers. In what appears to be an internal memo, Rogers says it's "transitioning" to an as-of-yet unannounced 8GB iPhone 3GS handset, and that it's reducing inventory of the older 3G model.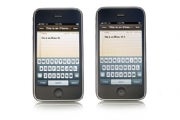 Real or no? You make the call.
In today's ultra-competitive smartphone market, an iPhone 3GS 8GB would make sense. Verizon Wireless reportedly will slash prices on most of its smartphones to $99, with the exception of the new BlackBerry Tour and Samsung Saga. It's clear that smartphones are becoming less of an early-adopter gadget and more of a mainstream device for budget-conscious consumers who prefer free or really cheap handsets.
Apple's current iPhone lineup is as follows:
3G 8GB is $99

3GS 16GB is $199

3GS 32GB is $299
If Apple launches an iPhone 3GS 8GB, what would it cost? Two possible scenarios:
$149, and the 3G stays at $99

$99, and the 3G drops to a bargain-basement $49 or is discontinued
Personally, I think the 3G will get the boot. It's an old-timer by smartphone standards, and the 3GS is selling like crazy. Plus two 8GB iPhones with similar names — 3G and 3GS — would only confuse consumers. Your thoughts?