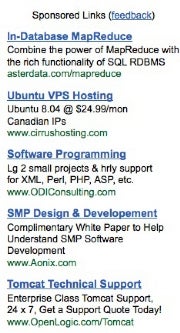 Are you tired of seeing text-based advertisements when checking your Gmail account? Apparently some people are, because two blogs have been working hard on a trick to permanently rid your Gmail account of display ads. The key, it seems, is using the right keywords in the messages you send.
Like most free Webmail services, Gmail inserts ads next to your e-mail messages. But Gmail is different from services like Yahoo Mail and Hotmail, since it displays text ads based on keywords plucked out of the e-mail you're looking at. The idea behind the Gmail concept is to deliver sponsored messages that will be more relevant to what you're reading, which means you may be more likely to click on a given ad.
For me, Gmail ads have always been easy to ignore, and since I find Gmail to be such a great free service I don't mind the trade-off. But if you really can't stand these ads, BoingBoing and LifeHacker have discovered a simple weakness in Google's keyword-detection algorithm to rid your Gmail inbox of ads forever. Basically, if you use words associated with tragic or horrific circumstances, Gmail doesn't display any ads at all.
Google probably does this since it doesn't want to offend you by running messages for funeral parlors or medical insurance next to an e-mail reporting on a loved one's death or illness. LifeHacker came up with a simple phrase that's suitable for work, which the blog claims will kill all Gmail ads: "I enjoy the massacre of ads. This sentence will slaughter ads without a messy bloodbath."
LifeHacker says this sentence works every time, but Boing Boing claims you need a ratio of one tragic keyword for every 167 words in your message. Perhaps LifeHacker's phrase works so well because it contains massacre, slaughter and bloodbath, creating ad-free messages of up to 501 words. The catch is you can't rid yourself of ads just by sticking LifeHacker's phrase in your automatically generated e-mail signature. Instead, you're going to have to manually insert the phrase in every single message you send.
This sounds like a big hassle just to rid yourself of a few text ads, but testing these phrases can be a lot of fun. If LifeHacker's phrase isn't your style, I came up with five alternatives to give you some variety in your ad-killing phrases:
For Subtext: I want to murder Google by making it impossible to make a killing off AdSense. Total Googleplex slaughter!
The Pipe Dream: The New York Jets are totally going to massacre other teams this year. It's going to be a bloodbath on the gridiron.
At the Bar: Drinking bloody marys all night will make you feel like a corpse in the morning. Vodka slaughters my insides.
The Literary One: My favorite books are Slaughterhouse 5, Death on the Nile, and The Virgin Suicides.
At the Movies: Did you see Bloodbath at the House of Death last night?
Try out this Gmail trick for yourself, and share any phrases that worked for you in the comments. But please remember anything that is NFSW (not suitable for work) will be removed.