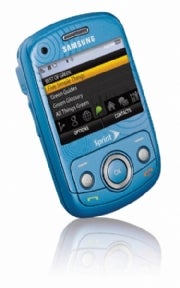 Sprint dove into the green cell phone market Thursday with the introduction of the Samsung Reclaim, an eco-friendly smartphone built in part from corn-based bio-plastics. The unit will be available Aug. 16 for $49.99 (after rebate with a two-year service agreement) from Sprint, Best Buy and Radio Shack.
The Reclaim has a slide-down QWERTY keypad, 3G data network support, a 2-megapixel camera with 3X digital zoom, video recording functionality, stereo Bluetooth support, a GPS receiver with Sprint Navigation software, a Web browser, an e-mail client, a microSD slot and a standard headphone jack. The phone will also go on sale at Wal-Mart in September.
About 40 percent of the phone's shell is made from bio-plastics and about 80 percent of the entire phone can be recycled, said Sprint CEO Dan Hesse at a morning press conference at New York's Cooper-Hewitt, National Design Museum. Hesse claims that the Reclaim is one of a number of green initiatives being pushed by Sprint. For example, Sprint hopes to recycle 90 percent of wireless devices by 2017.
"We are proud of the Reclaim and the progress it reflects," Hesse said. Hesse noted that Reclaim comes with an AC adapter that reminds you to unplug it once the phone is charged.
The Reclaim's lithium ion batteries offer 6 hours of talk time, according to Sprint. It'll be available in Earth Green and Ocean Blue colors.
The Reclaim doesn't come with a manual—you can download it from Sprint. What packaging there is consists of about 70 percent recycled materials and soy inks are used in all printed materials. In addition to one-click access to popular Web services such as Facebook and Twitter, the phone has preloaded shortcuts to green content from the Discovery Channel and other sources. Two dollars from each Reclaim sale goes to the Nature Conservancy's Adopt an Acre program, a land conservation organization.