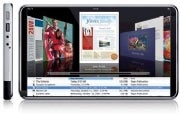 The fog appears to be lifting on the fabled Apple tablet computer, with fresh "details" gaining splashy new headlines. Piper Jaffray, financial analyst Gene Munster, appears to be willing to bet the farm that the Apple tablet is real and will cost $600, be available early 2010, and will mint Apple $1.2 billion in revenue next year.
Munster is sticking his neck out a little further from earlier predictions he's made regarding the Apple tablet. In a case of "is this déjà vu all over again," in May Munster made nearly identical predictions for the rumored Apple tablet launch, price, and impact on Apple's bottom line. Today's predictions appear to be a refinement to those May predictions.
So what new insight does Munster offer? Not much. But if you listen carefully while reading Munster's predictions you can almost hear the distant cries of "The Apple tablet is coming! The Apple tablet is coming!"

Here are his top predictions for the devices, according to a blog posting on the Wall Street Morning Call:
*Refining his price estimates, Munster is now looking at a price of about $600, right about in the middle of the expectations he described in May, when he believed the price would be between $500 to $700. "Assuming Apple sells about [two million] tablets at a $600 [suggested price] in [2010] it would add about $1.2 billion or about 3% to revenue" next year for Apple, he wrote in his report, according to the blog.
*So when will they launch? Munster is still sticking with his estimate of early 2010. "As talk over a new tablet device from Apple [grows], we are reiterating our thesis that in early [2010] Apple will introduce a touch-screen device similar to an iPod Touch but larger," Munster wrote in his report. "Last week we spoke with an Asian component supplier that has received orders from Apple for a touch-screen device to be fulfilled by late [2009]. This data point underscores our thesis that a tablet will likely launch in early [2010]."
*Who will want these and even buy one? "In most respects, we believe Apple will target the netbook market with its new device," Munster wrote. "In our estimate most netbook buyers are drawn to the portability for prices lower than a full laptop, and use netbooks primarily [for] Web surfing, e-mail, and media. We believe an Apple tablet would be priced 30%-50% below the $999 MacBook, and would offer best in class Web, e-mail, and media software. In other words, we believe Apple's tablet would compete well in the netbook category even though it would not be a netbook."
*What will an Apple tablet be like? "We expect the tablet hardware to be similar to an iPod touch but larger; we expect the key differentiator of the device to be its software," Munster wrote. "While there are several options ranging from a touch screen Mac OS X to an iPhone-like OS, we expect the tablet to be driven by a new version of Apple's iPhone OS that runs a new category of larger apps alongside all the current apps from the App Store."
Now we wait. Is there an Apple tablet heading to stores near you just in time for the holidays?
(Todd R. Weiss is a freelance technology journalist who formerly wrote for Computerworld.com. Follow him on Twitter at www.twitter.com/TechManTalking)