It's been a few weeks since I've pulled out my bag of Windows tips. I know how much you love them–so this week I've got a bunch more. Read on to learn how to quickly activate app windows, close Word 2007 docs without hassle, switch to full-screen mode with a shortcut, and deal with Windows updates.
Activate a Window By Hovering Over It
If you routinely keep a lot of windows open on your desktop, you know that to activate one (so you can interact with it), you have to click in it. What a hassle!

Fortunately, Vista and Windows 7 users can tweak a setting so that any window gets activated just by hovering your mouse cursor over it. Here's how:
Click Start, type Ease, then hit Enter to access Windows' Ease of Access Center. (Don't be alarmed by the computer voice you hear; robots have not infiltrated your PC.)
Click Make the mouse easier to use.
Check the box marked Activate a window by hovering over it with the mouse.
Click Save or Apply.
This takes some getting used to, and I found it more of a distraction than a helper–but I usually work with maximized windows, not smaller ones littered across the desktop.
Indeed, while I was hoping this setting would prove to be software-free alternative to WizMouse, the freebie utility that makes your mouse wheel work in any window without activating it first, it's not quite the same thing.
Close a Document Without Closing Word 2007
In previous versions of Word, you could close the current document by clicking its "X," but in Word 2007, that same action closes the program itself. How can you close the current document without closing Word?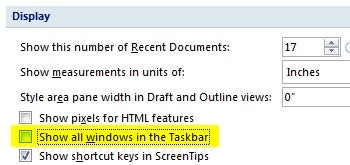 One option is to give each document its own little X, just like in Word 2003. Here's how:
With at least one document open, click the Office Button, then Advanced Options.
Click Advanced, then scroll down to the Display section.
Clear the check box next to Show all windows in the Taskbar.
Click OK to finish and exit.
Now check the upper right corner and you'll see that the current document has its own X. Click it to close the document while leaving Word open.
The problem with this is that there's no longer an easy way to switch between multiple open documents! You have to click the View tab, then choose Switch Windows, and then click the document you want to bring to the forefront. That's not my idea of a time saver.
Instead of all this, though, you could just memorize a keyboard shortcut: Both Ctrl-W and Ctrl-F4 will close the current document without closing Word itself. No fuss, no muss.
Switch to Full-Screen View in Your Favorite Apps
Monitor space is a terrible thing to waste. Yet most of us sacrifice valuable screen estate to omnipresent toolbars, which appear in our Web browsers, our word processors, and other apps.
If you'd rather expand your app's window so it fills the screen, learn these handy keyboard shortcuts.
Microsoft Excel and Word: Press Alt-V, then U to enable full-screen mode. Esc gets you out of it.
Windows Media Player: While in the Now Playing view, hit Alt-Enter for full-screen mode, Esc to return.
Chrome, Firefox, and Internet Explorer: F11 toggles full-screen mode.
Google Docs: Ctrl-Shift-F turns off the Google toolbars; Esc restores them.
iTunes: Ctrl-F enables full-screen mode when you're in Cover Flow view (and it looks cool that way); Esc restores the standard view.
Dealing With Windows XP Updates
If you're running Windows XP with Service Pack 2 or even Service Pack 3, what happens if you have to perform a system recovery using your original XP CD? Hassles, that's what. The old CD doesn't have all the patches and updates you've downloaded over the years. It could take hours or even days to redownload and reinstall all that extra stuff, during which time your PC is more vulnerable to viruses and outside attacks. (A lot of those patches tackle security issues.)
You do have options, though. For example, you can download the Microsoft Service Packs as standalone installers–but I propose a different solution: slipstreaming.
Slipstreaming is the process of combining your existing Windows XP CD and the latest Service Pack into a new CD. When you're done, you'll be able to install Windows XP with SP3 outright.
This is easier to accomplish than you might think, provided you've got your original CD and the standalone Service Pack. However, I'm not going to repeat the details here; check out Lincoln Spector's "Slipstreaming Service Pack 2 on an Old Windows XP CD." Just substitute SP3 for SP2 and you're golden.
Can you do likewise with Vista? Digital Inspiration has instructions on slipstreaming Vista with SP1 (you'll need a DVD for that), but I suspect you could just as easily swap in the new SP2.
Rick Broida writes PC World's Hassle-Free PC blog. Sign up to have Rick's newsletter e-mailed to you each week.