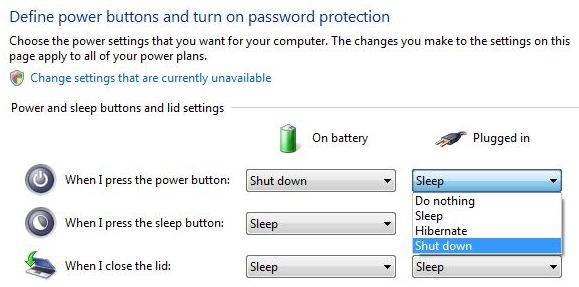 Shutting down your PC at the end of the day is so 20th century. What you probably should be doing is putting it into sleep mode. You'll save that interminable wait for your system to boot up, and it won't destroy the Earth or your bank account with a dramatic change in energy usage. Allow me to illustrate.
I have a fairly high-end system at home. It's a Core i7 920 based PC with 6GB of RAM, a high-end GeForce card (sometimes it's a Radeon, I go back and forth), and a reasonably quick Seagate 7200.10 hard drive. I'm running the final release of Windows 7. This is how long it takes me to shut down and boot:
Shutdown: 0:16
Boot: 1:06
Shutting down is pretty fast, but booting up is painfully slow. Bear in mind, this is what I call "true" boot-up time. It the time from when I press the power button to when I'm at a usable desktop (where you can actually click on things and get a response). Like your system probably is, it's not totally clean. I have Dropbox and my antivirus software loading at boot. Here's the numbers to go into sleep mode, and wake from sleep:
Sleep: 0:18
Wake: 0:02
That's right two seconds to get to a truly usable desktop waking from sleep mode. Shutting down takes a couple seconds longer, but waking my computer up is almost instantaneous. Not to mention that I can wake up my PC by tapping the keyboard, instead of reaching down to press a small power button.
But what about power, you ask? Am I running up my power bill? As long as your system BIOS supports the S3 ACPI (Advanced Configuration and Power Interface) mode, no. The S1 mode leaves the CPU and RAM powered up, the S3 mode powers those down. Our article from a couple years ago on how to check and change your BIOS sleep state is still relevant. My high-end system uses some 120-130 watts just sitting at the desktop (not including monitor), and uses 1 watt when powered off (most computers draw a very small amount of power, even when off, so they can do things like turn on when you press the power button). In sleep mode, my system draws a whopping 5 watts. Five. What does that different of 4 watts mean to you?
My computer is running a lot more than the average person's, so let's just suppose your system is turned off 16 hours a day. That 4W difference works out to a whopping 1.92 killowatt-hours (kWh) per month. According to the Department of Energy, the average price for electricity in the U.S. is 11.59 cents per kWh, so sleep mode costs you 22.2 cents per month. The average home in the U.S. uses 936 kWh per month, so 16 hours of sleep mode a day would be a 0.21% increase in monthly power usage. That's what we call a "rounding error."
Of course, some systems use a little more power in sleep mode, but it's almost always under 10W. We have more on how to change the function of your computer's power button here. You probably don't want hibernate mode, which dumps the contents of your PC's RAM to the hard disk and then power off your PC, so you can resume right where you left off (with programs open and so on). With the large amount of RAM in today's systems, this can be a pretty slow option.
You should also make sure your BIOS and Windows are both up to date. Sleep mode has been finicky in the past, but motherboard manufacturers and Microsoft have worked out most of the kinks by now. If you don't update your BIOS and OS, it might not work right.