Microsoft has launched an Xbox LIVE dashboard update that contains all kinds of new goodies, plus a look towards the future. While you can download the update today, some of the newer features won't be available until Thursday, August13. Here's a quick breakdown of what you have to look forward to
Games on Demand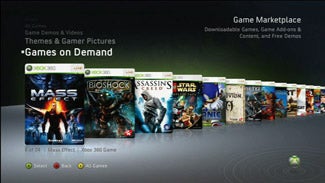 Starting Thursday, you will be able to download and store game titles on your Xbox 360 or external hard drive. No disc is necessary for gameplay. Titles will include Mass Effect, Assasin's Creed, BioShock, and Elder Scrolls IV: Oblivion. The average price is about $30 for a downloadable game, and you will be able to purchase games with Microsoft points or a credit card. New titles will be added every Tuesday.
You may not have to worry about losing your games either, since Microsoft says all your purchased games will be available for mutliple, and possibly unlimited, downloads. Games on Demand may also be portable, but Microsoft is a little fuzzy on this point. In the Xbox LIVE update notice, Microsoft says, "Download your purchased games to any console you are logged into with your Gamertag, and anyone else can play on the console that your game was originally downloaded to."
I don't know about you, but that sounds to me like the Games on Demand feature will be portable, allowing you to log onto your friend's console with your own Gamertag, download one of your games, and play it on your friend's machine. That scenario makes a lot of sense, and would make the Xbox 360 download setup very flexible. But Microsoft's statement is a little confusing, since right after mentioning portability it says anyone can play downloaded games on the "console your game was originally downloaded to." That probably means Microsoft will let anyone with any Gamertag play a downloaded game on your home console, as well as let you port downloaded games onto your friend's machines. Just to be sure, I've dropped Microsoft a quick note to clarify.
In addition to games, Xbox LIVE will now let you view, download or print game manuals right from your console.
Tricked Out Avatars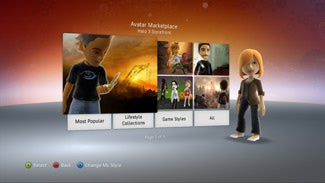 Now you can throw branded apparel on your avatar for a price at the new Avatar Marketplace. Starting Thursday, you can buy your Avatar clothes from fashion labels and games, but Microsoft isn't saying what the costs will be or what brand names or game costumes will be available. If new clothes are not your thing, you will also be able to give your avatar toys called Avatar Props. Items include a remote controlled Halo Warthog that your avatar can take with it wherever it goes. Take a look at Inside Xbox's video to see the new avatar features in action (the video is item number one).
Netflix Tweak, Xbox Exclusivity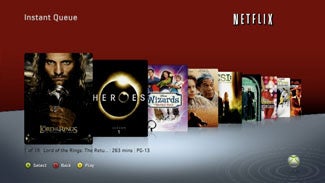 Microsoft has added a few tweaks to its Netflix feature, including an improved user interface to find content faster, and the ability to add titles to your queue right from your Xbox 360 instead of logging on from your PC. Other features include an improved playback experience and better integration with the friends feature to let you know what your Netflix pals are watching. There's also a new party watch feature where you can watch content with your friends.
Netflix discussed the party watch feature several months ago; it's similar to a feature available with Blu-ray's BD Live. Basically, you will be able to watch select Netflix content at the same time with up to seven friends in remote locations. You will also be able to discuss what you're watching, but it's not clear if that means you will be able to talk over VoIP or instant messaging.
Here's another interesting tidbit found at the bottom of the Dashboard release notes: "This exclusive partnership [between Xbox and Netflix] offers you the ability to instantly stream movies and TV episodes from Netflix to the television via Xbox 360. Xbox 360 will be the only game console to offer this movie-watching experience…" Netflix might be trying to integrate its service into all kinds of high-def televisions and set-top boxes, but it looks like the Xbox 360 will be the only Netflix-capable gaming console for now. Sorry PS3 and Wii fans.
Miscellaneous Tweaks
Xbox LIVE has many other service changes as well including improved party invites, user ratings, account management and recovery options, video display options, user interface, and console settings. You can see the full list of new Xbox LIVE features and improvements on Xbox.com.
Microsoft also gave us a peek into the Xbox's future with integration coming soon for Facebook, Twitter, Last.fm, and Zune Video.