Google has unveiled Caffeine, a "next-generation architecture" for its Web search platform. The retooled search engine is said to be faster, more accurate, and more comprehensive than the current Google search setup.
Google is by far the Internet's dominant search engine — it accounted for about three-quarters of all U.S.-based searches in June, according to Web metrics company Hitwise — so any change in its formula is bound to create plenty of questions. Here's a simple FAQ on Google's new Caffeine system, what it's all about, and what it means for you.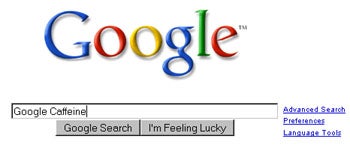 What exactly is Caffeine?
Caffeine is a revamped version of Google's actual search engine — the code that finds your answers when you type in queries.
Where can I see it?
Google has set up a Web developer preview of Caffeine that you can test at http://www2.sandbox.google.com/. That site only works on a regular Web browser as of now; you can't test it via your mobile phone just yet.
How is Caffeine different from the current Google search engine?
The formula itself, in some ways, has changed. Google engineers have actually rewritten parts of the search engine's infrastructure. Of course, Google isn't disclosing exactly what has been altered, but in a nutshell, search results show up faster and in a somewhat different order. The difference may or may not even be noticeable to you.
What's an example of how search results show up differently in Caffeine?
Try searching for "PC World" in regular Google search, then searching for it in Caffeine. As of this story's publication, the links begin to differ four entries into the page. While the fourth result on regular Google search is a 2004 Today @ PC World blog on Google Desktop Search, the fourth result on Caffeine is a link to an Amazon.com page for PC World subscriptions. You'll notice other changes as you compare the two results pages, too (as you will if you do side-by-side comparisons on most other search terms you try).
Will Google.com look different with Caffeine?
No. Caffeine is described as an "under the hood" update; it is not a change to the external Google user interface that you see.
How much faster is Caffeine?
We're talking fractions of seconds, but it's there. In our test search for "PC World," for example, the results took 0.15 seconds on the regular Google search, and 0.09 seconds on Caffeine.
Is that all there is to it?
Pretty much. Google does say, however, that Caffeine isn't finished, and the code will change over the coming weeks.
So is this all happening because of the Microsoft-Yahoo deal?
It's easy to make that conclusion — after all, it was just days ago that Microsoft and Yahoo announced plans to form a search partnership. Google, though, insists the two events are completely unrelated. "This change has been in the works for months," Google software engineer Matt Cutts assures.
Doesn't Google change its search algorithm pretty regularly?
Yes — in fact, some accounts suggest the code is tweaked on a daily or near-daily basis. The Caffeine update, presumably, is considered significant enough of a change to warrant more user testing before it is fully implemented; it's described by some as being the biggest infrastructure update to Google's search system in about three years.
How do I tell Google what I think about Caffeine?
After you search for something on the Caffeine developer site, you'll see a link at the bottom of the page that says: "Dissatisfied? Help us improve." Click that link to send feedback.
JR Raphael drinks plenty of caffeine while updating his new geek humor site, eSarcasm. You can reach him on Twitter: @jr_raphael.