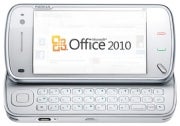 Microsoft is expected to launch mobile version of its Office suite software for select model Nokia phones today, a person with knowledge of the agreement told The New York Times.
Microsoft and Nokia have been cryptic about their announcement due later today, but it appears both firms are taking a steps to face emerging competition from free Web-based solutions from Google.
Nokia already ships most of its Symbian OS smartphones with a third-party document-viewing solution called QuickOffice and users can upgrade the software to editing capabilities as well for a fee.
The announcement due today could replace Nokia's preference for QuickOffice to a software suite from Microsoft. It is yet unclear whether the partnership would deliver Nokia with a customized software version of Office, as native versions of the suite as so far limited to Windows Mobile.
Some speculate that the new deal could unveil a mobile Web-based solution for Nokia phones, as Microsoft is already planning to launch Web versions of Word, Excel, PowerPoint, and OneNote, compatible with all major browsers on both PCs and Macs.
Microsoft intends to deliver the Office Web Applications and the desktop companion Office 2010 in the first half of next year. If the deal with Nokia proves to deliver document-editing capabilities via the phones' Web browser, an expected arrival date could be around the same time as Office 2010.
Microsoft and Nokia will hold a joint teleconference today at 11 a.m. Eastern Time, when all the details of the partnership will be revealed.
Microsoft Office Also On The iPhone This Week?
In a possibly related announcement, Microsoft's Mac Business Unit has also scheduled a news conference for Thursday with "some exciting news to share," reports TechFlash.
Apple's iPhone can only view Office documents natively and a third-party solution offering editing capabilities is available from QuickOffice. Both Nokia and Apple use WebKit to render pages in their mobile phone browsers, so a Web-based Office solution would make sense.