Pantry is a cute and free application that helps you keep track of the food you have on hand, and helps you build shopping lists when supplies get low. It's attractive and fun to use, but using it sometimes feels a bit more like work than it should.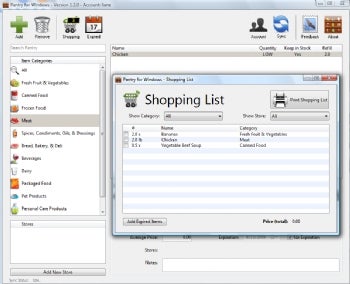 Once you launch the application, you just enter the food and goods you have on hand in Pantry's neatly organized categories. The app comes preloaded with categories such as "Canned Food" and "Fresh Fruit & Vegetables," and includes many of the most common types of food, too. You can either select from its list of food or enter your own, if what you want isn't listed. You can also list how much of the item you have on hand, whether you want to restock when it's running low, and what you consider "low" to be.
When items are running low, they're automatically added to your shopping list. You can assign certain items to specific stores if you wish, and can print the list with the click of a button. What the app can't do, though, is know when items are running low; you have to tell it. Reasonable enough, since Pantry is only a piece of software, not a way to actually monitor the contents of your kitchen. But remembering to tell Pantry that you're down to two bananas and need to restock feels like more work than scribbling "bananas" on a notepad on your fridge.
What is handy is Pantry's ability to sync with other users, and with its own $3 iPhone app. This allows your family members to tell you, virtually, that they finished off the last of the ice cream. And I always have my iPhone with me, which makes it easier to remember to note when I've used up all of the toothpaste.