Last week I talked about how to activate a window just by moving your mouse over it. This week, let's focus on ways you can get more from your mouse.
Scroll the Ribbon in Office 2007 Apps
When you're viewing a document in Word, Excel, or PowerPoint, a flick of the mouse wheel scrolls your document up or down, just like in a Web page.
Move your cursor up to the Ribbon, however, and the mouse wheel takes on a different function: It scrolls through the tabs.
I'm not saying this is any faster or easier than just clicking the tab you want to view, but it does give you an alternative.
What's more, it helps cut down on "click accidents," like when you aim for a tab but actually click a tool icon–with disruptive results. Surely I'm not the only one who does this? (Please say I'm not.)
Anyway, give it a try. Firefox users can do likewise: When you've got more browser tabs than will fit on the screen, just mouse over the tabs and spin the scroll wheel to cycle through them.
Middle-Click Links to Open New Browser Tabs
One of my all-time favorite Firefox tips is holding down the Ctrl key and using the mouse wheel to quickly zoom in or out.
Another all-time favorite: Opening a Web link in a new tab by clicking it with the mouse wheel. It's true! Give it a try. Go ahead, I'll wait.
Now, this may not work if you've installed your mouse maker's utility software and programmed the rodent to do something else when you click the wheel.
But the default behavior in Firefox, Internet Explorer, and Google Chrome is to open the clicked link in a new tab.
Eliminate Double-Clicking from Windows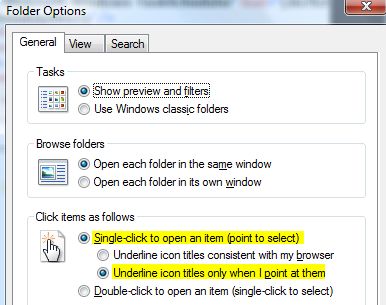 I'm not going to name names, but I know people who just can't get the hang of double-clicking. Either they double-click stuff that's not meant to be double-clicked (like Web links) or they slide the mouse while trying to double-click a program icon. On the outside I'm very sympathetic, but inside I'm laughing my head off. (Yeah, I'm mean that way.)
Of course, in today's Web-powered world, double-clicking is an anachronism, a vestige of old-school computing. So why don't we ditch it altogether? After all, desktop folders and program icons are really the only items that need two clicks. Surely Windows offers a single-click solution?
Here's how to make Vista a single-click OS:
Click Start, type Folder Options, and then hit Enter.
In the General tab, find the Click items as follows section, then enable Single-click to open an item (point to select).
Now decide which of the two "underline" options you want. The first keeps all clickable items underlined at all times, much like links in your Web browser. The second keeps the underline hidden until you mouse over an item. I prefer the latter, but you should try both to see which option you like best.
Click OK and you're done.
Note that if you're really used to double-clicking, it'll probably take you a few days to break the habit.
This method also makes file selection a little trickier, especially if you're accustomed to the practice of Ctrl-clicking multiple files. Now, instead of clicking each file in turn, you just hold down the Ctrl key and mouse over each file you want to select, pausing for about a second on each one until it becomes highlighted.
Rick Broida writes PC World's Hassle-Free PC blog. Sign up to have Rick's newsletter e-mailed to you each week.