Apple likes product conformity. Maybe that's what makes the latest leaked Apple tablet image (in a long line of purported previews) the most "convincing" one yet.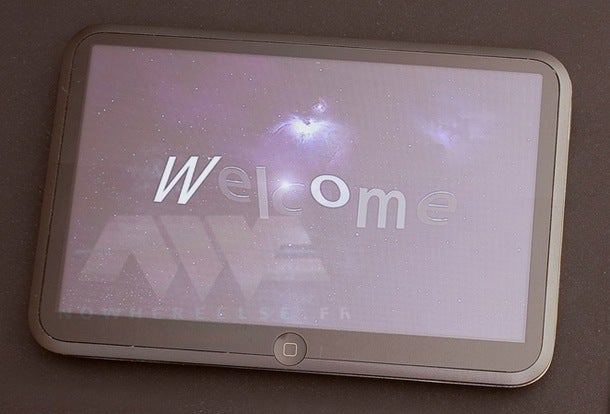 The image comes from a "credible" French blog via The Boy Genius Report.
The small, probably Photoshopped (click on the image to zoom in on the finer details) photo shows what is essentially a huge iPod Touch with an awkwardly-placed Home button and the edges of a chrome backing.
Contrary to popular belief that the tablet will run some version of the iPhone OS, this image clearly shows the tablet is running some version of OS X.
Most disturbing of all is what I'm assuming to be rotating "Welcome" text. Maybe Apple partnered with Microsoft and integrated Powerpoint Custom Animations to its Tablet OS.
Overall, the design makes sense and isn't atrocious, but as Zach Epstein of The Boy Genius Report said, "…placement of the home key is a bit odd considering such a device would be held by its ends."
I'm not saying a French blog can't be credible or this image isn't the real deal. But if it is, Apple just made a bigger design mistake than overheating iPods.