TomTom released Monday its turn-by-turn navigation application for iPhone. The app costs $100 and uses the iPhone's built-in GPS chip to provide users with real-time navigation directions.
The iPhone TomTom software offers most of the features found on stand-alone devices from the company. The iPhone app features both landscape and portrait views, points of interest, 3D and 2D maps, and both night and day views.
IQ Routes is one of the most interesting features found on the iPhone TomTom apps. IQ Routes serves users routes based on the practical experience of millions of drivers, offering precise arrival times depending on traffic spikes during the day.
TomTom was the first to announce a sat-nav application for the iPhone back in June at the Apple WWDC event, but rivals such as Navigon managed to release their iPhone navigation software earlier and for a smaller price as well.
Navigon's Mobile Navigator North America [AppGuide link] is now selling for $69.99 while TomTom's US&Canada [iTunes link] version sells for $99.99. CoPilot Live North America [iTunes link] costs only $34.99.
TomTom is compatible with the iPhone 3G and iPhone 3GS and requires the iPhone 3.0 OS or later.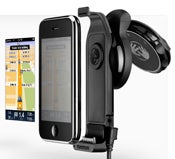 TomTom aims to offer a complete package for those who want to double their iPhone as a GPS navigation device. The company is expected to launch a Car Kit complement for the iPhone app, which provides an additional GPS receiver, microphone and built-in speaker, car mount and charger, and an audio-output jack. The price for the TomTom iPhone Car Kit has not been announced yet.
DEMO: The guys over at Recombu in the U.K. already downloaded the TomTom iPhone app, taped (the Car Kit would have come in handy) their iPhone to the car's dashboard and took it for a spin. See their video below.
Follow Daniel on Twitter @danielionescu