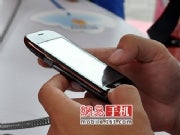 Dell reportedly took the wraps off its China-only smartphone project early Monday in China with the launch of the Dell Mini3i, according to the Chinese blog Netease. I'm not sure how this device relates to earlier attempts by Dell to enter the smartphone market, but judging by the Mini3i's specs, it's not hard to see why U.S. carriers have so far been unimpressed with Dell's mobile device efforts.
The biggest downside to the Mini3i is that it is a 2G phone with no 3G or Wi-Fi capability. Reported specs on the Mini3i include a 3.5-inch touchscreen with 360 by 640 resolution, mini USB port, SD card slot (no word on maximum storage size), and a 3.2-megapixel camera. Netease also says the Mini3i has no physical keyboard, and runs an Android-based operating system designed by China Mobile called Open Mobile System (OMS). The translation of Netease's page is a little unclear, but it appears the Mini3i may also come with built-in GPS.
The Mini3i's design is reminiscent of the Palm Pre with its rounded edges and large screen size, and the device looks similar to an image that surfaced in mid-June that was supposedly a Dell smartphone.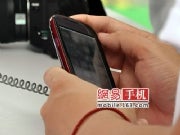 There was no mention of a launch date for Chinese customers, and it's not clear if a similar device would launch in the United States. Must-have features for a U.S.-version of this device are obviously 3G capability and Wi-Fi; without those two basic ingredients, the Mini3i wouldn't be able to gain any traction against some of the more popular smartphones available today such as the iPhone, Palm Pre or RIM's Blackberry devices.
Dell's Mini3i debuted during the launch of China Mobile's mobile application retail outlet called the Mobile Market. The online store has applications for devices from ten different handset makers such as Nokia, Samsung and LG. Verizon, a partner with China Mobile at the Joint Innovation Lab, plans to launch a similar application marketplace for devices from different handset makers.