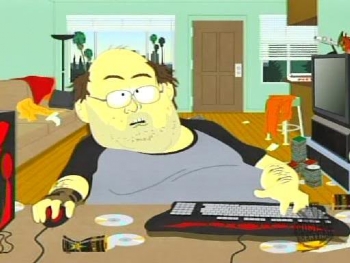 A new study from the Center for Disease Control and Prevention working with Emory and Andrews Universities suggests the average US adult gamer is chubbier and less happy than the rest of the population. Apaprently eschewing flea markets, churches, bowling alleys, sleepovers, and bingo night, they're also more dependent on the internet to make friends.
The average age of an "adult" gamer? 35, according to the study, a number that's been creeping up for years as those of us who grew up with Commodore and Atari and Pong carry the flag forward toward quadragenarianism.
The CDC-led study sampled responses from 500 adults aged 19 to 90 in the Seattle-Tacoma area, of which roughly 45 percent said they played video games. Of that 45 percent, male gamers had higher body-mass indexes (BMIs) and used the internet more than non-gamers, while female gamers reported higher incidence of depression and health issues. Both male and female gamers reportedly depend more on the internet when making new friends.
But wait: Isn't social engagement through services like Facebook, Twitter, YouTube, instant messaging, email, etc. a form of extroversion ("outgoing," "sociable," "gregarious") too?
And what about other possibly related factors? Say whether a respondent's career has any bearing on their physiological and mental well-being. Is there a correlation between career interest in computers and high technology and video gaming? If so, what about the sedentary nature of computer-related jobs? So there's a correlation between adult male video game players and higher BMIs…couldn't there be other explanatory correlations?
And what about those feelings of "depression"? Are they due to "withdrawal" symptoms as some (without a shred of medical evidence, mind you) have claimed? Or could it be that games in at least some instances aid in highlighting the depressingly drone-like elements (debatably, anyway) of so many bourgeois jobs? Do video games themselves cause depression? Or are they merely throwing into stark relief other aspects of life responsible for as much?
I can't discount the BMI claim if it's accurate. "Fat" isn't the new "robust." The bottom line fellas? Get off your duff and exercise.
Just not too much.
As they say, "everything in moderation."
Check out twitter.com/game_on for even more game-related news and opinion.