A new report on consumer satisfaction with search engines and Internet portals says we like them more they now than this time last year. Of the major engines, only last-place AOL improved its score. The big winner? "All others."
The American Consumer Satisfaction Index compares customer satisfaction among and across a number of companies and e-business and other sectors. It was released earlier today.
In the quarterly rankings, conducted since 2000, all the major search engines/portals have improved their scores over time, with only Ask.com and AOL now below their highest historic rankings.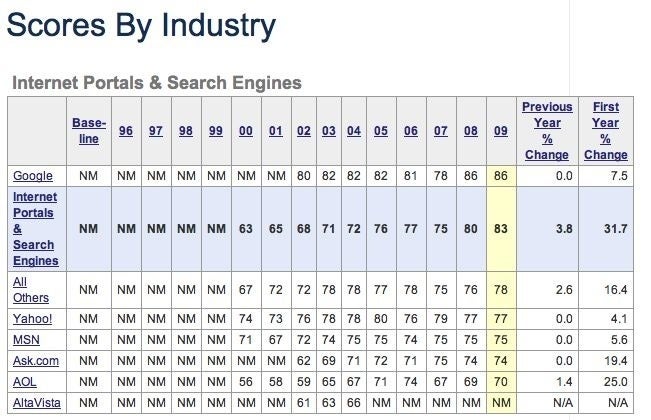 Overall, Google leads the pack, with an 86 percent satisfaction rating, the same as last year. Ranked number 2 is "all others" with 78 percent, up 2.6 percent from a year ago. AOL improved by 1.4 percent to a 70 percent satisfaction rating. (See chart for details).
The survey was conducted before the announcement of Microsoft's Bing search engine as well as the deal that replaces Yahoo search with Bing.
Among the industries surveyed, Internet Portals & Search Engines did quite well, with an overall 83 percent satisfaction rate, up 3.8 percent from last year, based on the strong showing by "all others" and the 1.4 percent improvement by AOL.
Internet News and Information ranked 71.5 percent overall satisfaction. Only USA Today showed improvement, up 1.4 percent to 74 precent. The category leader was "all others" at 75 percent. That left the New York Times, MSNBC, and ABCNews sites all showing significant decreases in consumer satisfaction over the past 12 months.
Comparing tech to other industries: Automobiles received an 84 percent satisfaction rating; Electronics (TV/DVD/VCR) 83 percent; and Major Appliances, 81 percent.
Industry veteran David Coursey tweets as @techinciter and can be contacted via is Web site.