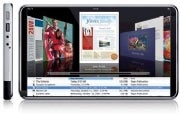 What's better than a rumor about one Apple tablet? A rumor about two. That's right: not one, but two Apple tablets could come either this year or early next year. Market researcher Richard Doherty told BusinessWeek that Apple has developed two tablet computers prototypes: a 6-inch oversized-iPod version and another with a bigger display.
According to Doherty, the 6-inch Apple tablet, which we have been hearing about for the past month, will be aimed mainly at watching videos, playing games, and reading e-books. The second model will have a larger screen and will be able to run all Mac applications, including audio/video editing and graphic animation, he said.
(See a related report: Apple Tablet Dreams: Image Gallery )
It makes sense that the smaller, 6-inch Apple tablet would run on an iPhone-based operating system, hence delivering the same capabilities of an iPod, but only with a larger display. This could be very suitable for reading e-book as well, challenging the Amazon Kindle. Doherty speculates that the small Apple tablet model would retails for around $679.
Doherty's suggestions about the larger Apple tablet are more interesting, though. By saying that the larger tablet would "run all Mac applications," he is basically suggesting the model would have full Mac OSX compatibility, hence serving for more advanced functions such as an animation workstation or audio/video editing device.
But this is actually the second time we are hearing about two models of the Apple tablet. Late last week, Gizmodo quoted an unnamed source also saying the Apple tablet would come in two editions — but with a difference: one with a webcam and one for educational use. Gizmodo's source tablet also went for around $700.
Of course, Apple is keeping mum on any rumors or speculation about the tablet. The Cupertino company has scheduled a special event on September 9, where the Apple tablet might or might not make an appearance. Some say that we won't see an Apple tablet this year, but more likely next year. Until Apple's September 9 event, though, we just have to wait and see.
While you wait, you might want to have a look at our Apple Tablet dreams image gallery.
Follow Daniel on Twitter @danielionescu