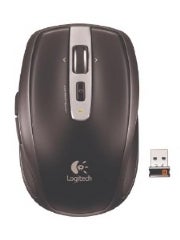 If you've ever used a laser mouse, you know how frustrating it can be to use pointing devices on particularly smooth surfaces when your mouse pad is missing in action. After a few minutes of trying to get the device to track properly, you reach for the closest magazine or book to stop the cursor from jumping all over the screen or disappearing completely.
On Wednesday, Logitech unveiled two new mice the company says will work on most surfaces in your home. The regular-sized Performance Mouse MX and more portable Logitech Anywhere Mouse MX use Logitech's new, hyper-sensitive Darkfield Laser technology, which the company promises will work on most table and countertop surfaces including glass, granite, and lacquered wood.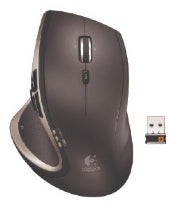 The reason computer mice don't work well on uneven surfaces is because most laser mice need a smooth surface with some minor but noticeable rough spots. The mice use these imperfections as reference points to figure out where the pointer should appear on your computer screen. But with particularly smooth surfaces, there simply aren't enough irregularities for a typical laser mouse to detect. Darkfield, on the other hand, detects microscopic particles and tiny surface scratches as reference points making it a more accurate device than a regular laser mouse, according to Logitech.
Logitech's Performance Mouse MX has a suggested retail price around $100, features four thumb controls, and comes with a micro-USB charger. The notebook-sized Anywhere Mouse MX will sell for about $80. Both mice are wireless and feature dual-mode scrolling with a hyper-fast and regular scroll mode, and both devices work with Logitech's Unifying receiver — a tiny USB device that can connect up to five wireless devices to your computer.
The new Darkfield mice are part of a new breed of pointing devices adaptable to any surface. Last fall, Microsoft unveiled its BlueTrack system for mice, which Redmond says works on a range of surfaces from carpet to granite countertops. But before you get your hopes up about Darkfield, Logitech says for glass the new technology needs a surface at least 0.15 inches thick to work properly. Darn, and to think I just spent all that money on a glass tabletop only 0.10-inches thick.