Most of us use our PCs on a regular schedule. Why wait for your computer to boot up in the morning? And why fuss with shutting it down yourself when you're sprinting for a train in the evening? SetPower Free makes it easier to save energy by providing a very customizable weekly scheduler for Windows's built-in power settings. You can use this freebie to set timers for turning the display off, sleeping, and hibernating by time of day and day of week. This makes it simple to do things such as making the computer hibernate all night, and then automatically waking up in the morning, ready to be used. If you take weekends off, it can take care of that too. Creating an entire schedule from scratch is a little tricky, but fortunately there is a built-in wizard to assist with creating schedules based around sleeping and work.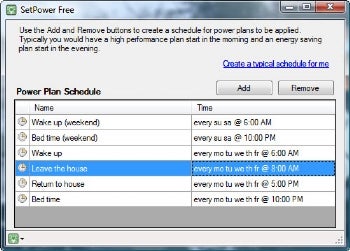 If your usage is predictable, let SetPower Free manage your power settings. A more erratic computer user may prefer a program like MonitorES, which turns off the display every time the computer is locked. For maximum energy saving, try using both; they don't conflict with one another. You'll save money and feel better about your impact on the environment.
Note: The setup program will download updated files during installation. Also, if your computer is part of a Windows Domain, you will not be able to use the free version. There is an enterprise edition, which costs $5 a license with a minimum of 5 licenses.