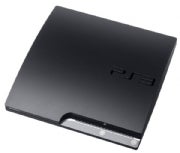 The PlayStation 3 Slim gaming console from Sony Computer Entertainment is not only smaller and cheaper, but adds hardware enhancements that make it speedier, including a new Cell microprocessor.
The gaming console, introduced on Tuesday, is a slimmer and lighter version of older PS3 consoles. It carries a 120GB hard drive, which is an upgrade from the 80GB of storage offered in the earlier PS3. The console will sell for US$299 and become available on September 1. (See "PS3 Slim vs. Xbox 360 Price Fight")
Sony has made some enhancements under the hood to boost its processing speed and power efficiency. The gaming console will carry an upgraded version of the Cell microprocessor, which is being jointly developed by IBM, Sony, and Toshiba.
The new chip has been manufactured using an advanced 45-nanometer manufacturing process, an IBM spokesman said. Based on IBM's Power architecture, the chip delivers many performance improvements while drawing less power than earlier chips, IBM has said. The earlier console carried a Cell processor manufactured using the 65-nm process. IBM declined to provide the clock speed of the new Cell processor.
Chip production enhancements for the Cell could deliver some cost benefits to users, said Jon Peddie, president of Jon Peddie Research. The chips will become more power efficient and users may see some energy savings, Peddie said.
Smaller chips also cost less to produce, which may have contributed to the lower console price, Peddie said. That could also set the stage for further price drops in the future.
On launch, a Sony executive said the advanced manufacturing process was a factor in driving the console's price down.
"We're extremely pleased that we've been able to meet production efficiencies that have allowed us pass those savings on to customers," said President and CEO Jack Tretton, CEO of Sony Computer Entertainment of America, in a video on the official PlayStation Web site.
The console carries a graphics processing unit made by Nvidia, though details about the chip were not immediately available. Nvidia officials declined comment, and Sony officials did not return calls seeking comment.
Earlier consoles carried the RSX GPU developed jointly by Nvidia and Sony. Peddie said that the graphics core in the PS3 Slim has to be identical or similar to the RSX GPUs, otherwise existing games for the PS3 won't run on the new console.