Research In Motion is set to bring full Adobe Flash and Microsoft Silverlight support to the company's BlackBerry phones. The BoyGenius Report blog claims RIM will introduce the new functionality sometime next summer, together with more powerful handsets.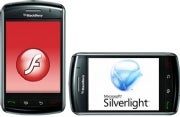 The BlackBerry Web browser is not particularly famous for its capability to display pages properly, but RIM is working on a major overhaul of the software. The crown jewel of the new BlackBerry browser though, would be full Flash and Silverlight support, according to the BoyGenius report.
Only a handful of Nokia devices have Adobe Flash support, which is actually a stripped-down version of the software, called Flash Lite. While the iPhone and the Palm Pre have no such capabilities, only the HTC Hero, running on Google Android OS, has proper Flash technology support. Silverlight, Microsoft's alternative platform to Adobe Flash, is not supported on any mobile devices at the moment.
In order to have full Flash and Silverlight capabilities, BlackBerry devices would need to be more powerful, together with access to higher data speeds — and BoyGenius claims RIM is already working on that. Don't gear up for these capabilities on a BlackBerry handset soon, though — the expected arrival date for Flash and Sliverlight-flaunting BlackBerry phones is only sometime next summer.
But for technology, next summer is a very long time away. Adobe said back in June it is preparing a full-fledged mobile version of Flash Player 10. The mobile Flash Player 10 is set to arrive this October for Windows Mobile and WebOS (Palm Pre) developers, which could signal support for the platform on many more mobile devices in early 2010.
Of course, the only name left out of the equation is Apple. There have been several reports about Flash support for the iPhone, but none of them materialized so far. The last time we heard about Flash on the iPhone, Adobe CEO Shantanu Narayen dashed hopes for such possibilities, saying, "It's a hard technical challenge, and that's part of the reason Apple and Adobe are collaborating."