Programmers have used diff utilities for years. In brief: A diff utility lets you input two files, then the program calculates exactly where the files contain changes. Diffing is the basis of such features as Microsoft Word's Track Changes tool, but Word can only compare two plain text files or two Word documents. If you need to compare HTML, XML, or even binary files, only a proper diff utility will do. And ExamDiff Pro ($35, 30-day free trial) meets the gold standard for these types of utilities: Not only will it compare files, but its unique "fuzzy comparison" feature lets you determine just how drastic the changes have to be before the program flags them. This makes it invaluable for software developers, or anyone who needs to visually compare lots and lots of files quickly.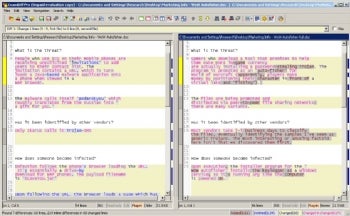 The product is distributed in two versions: One version includes plug-ins that permit ExamDiff Pro to evaluate several different file types, including Microsoft Office's Word, Excel, and Powerpoint files; XML, HTML, and INI files; and the contents of archives such as .Zip or .Jar files. You can also set up the program to browse to online FTP storage sites and compare the files on the server with files locally stored on your computer .All in all, ExamDiff Pro is an extremely handy tool for Webmasters or Web designers, or for anyone who needs to maintain copies of files in two different places.
Note: When you purchase something after clicking links in our articles, we may earn a small commission. Read our affiliate link policy for more details.