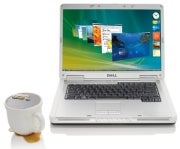 When liquids meet electronics, you can't waste time. Conductive liquids cause most of the initial damage. Immediately unplug the laptop from its power cord, and pull out the battery. Don't bother closing programs or saving data.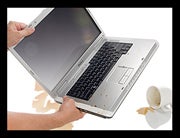 Working quickly, remove all cables and attachments, plus any swappable optical drive or PC card. Tilt the laptop to get most of the liquid out the same way it came in, but be careful as you turn the machine over. Keep liquid away from the LCD. If liquid is on the surface, however, dab the outside with a clean towel.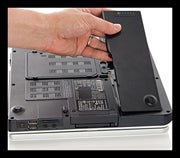 Depending on your available tools and disassembly skills, remove more parts. Unscrew the outer case, and remove the plastic shell to expose the internal circuits. You can disassemble parts even further, separating individual components to help them dry. Do as much of this as you are comfortable with.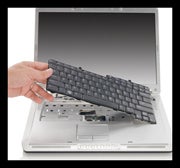 If advanced disassembly unnerves you, consider taking the laptop to a good local repair shop at this stage. But even without further assistance, your first aid may save your system.
If you do disassemble the PC (find some hints on the process here), consider cleaning the affected parts with electronics circuit cleaner. (See "Dry a Submerged Phone.") If all you spilled was a little water, this step is likely more trouble than it's worth. Other drinks are more conductive and corrosive. However, if you've spilled a lot of liquid–more than a quarter of a cup–dab the parts with a fresh towel full of circuit cleaner. Work with rubber gloves in a ventilated area.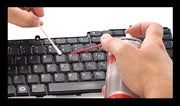 Now wait for your system to dry. Leave the laptop disassembled or open and upside-down for a couple of days. Wait even longer if you can. Avoid using a hair dryer to speed up the process. Instead, leave the laptop in a warm room, next to a windowsill or in another dry location. Reassemble the laptop and turn it back on. If the keys are sticky, turn the system off; disassemble the keyboard for fine cleaning with electronics cleaner.
In Video: Disaster! How to Salvage a Wet Gadget
If the laptop won't turn on, your hard drive may still work. Remove the drive, put it in another case or hook it to an adapter, and connect it to a different PC. Your last resort: a data recovery service like Drive Savers.