If you think it would be a good idea to print your business card on a specially cut, rectangular mini-CD, think again. Your contacts might never forget the headache of having the disc jam inside a slot-loading optical drive. If such a jam happens to you, follow these steps to release the disc.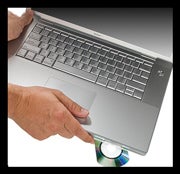 Try to clear a stuck mini-CD or mini-DVD the simple way. Tilt the drive so that its slot points downward. (This is easy if the computer involved is a laptop, as is most often the case.) Then try pressing the eject button and gently shaking the machine. These motions–with an assist from gravity–might release the disc.
If the disc remains stuck, attach a piece of two-sided tape to a thin, sturdy business card or a plastic gift card. Slide it, sticky side down, three quarters of the way into the slot above the disc, and press down to snare the disc. Lift the card up slightly, and pull both it and the attached disc out of the slot. Work carefully, and don't rummage around with more drastic tools (such as paper clips) that could damage the drive.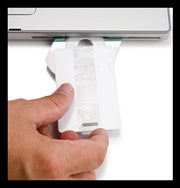 Strange-shaped discs usually work in tray-loading drives, but some slot loaders can also accept them. Check your computer or optical-drive manual to make sure in advance.