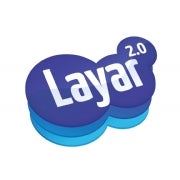 Netherlands-based Android developer Layar has announced that its Layar Reality Browser 2.0 is now available globally. Layar Reality Browser is an augmented reality browser: That is, as you hold up your phone, it'll show pop-up information bubbles for nearby points of interest relative to your current location onscreen, overlaid atop live video from the phone's build-in camera. A PC World story from last month gives more detail about augmented reality.
Layar has a video demo that better explains what it does:
Event Video: Layar 2.0 Walk Through from Maarten on Vimeo.
This is not the only time a phone developer has used the concept of augmented reality to display information. iPhone developer Acrossair will sell an augmented reality app designed to help you find the nearest New York City subway station (it'll be available when Apple released the iPhone OS 3.1 update).
Seriously, this stuff looks like something out of a sci-fi movie.
Looking to take it for a spin? You can download Layar from the Android Market.
[Layar via Hack a Day]