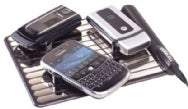 Battery manufacturer Duracell has revealed its very own wireless charging device, dubbed 'myGrid'.
Duracell claims that myGrid is as fast as standard 'old fashioned' wired charging and can power a variety of gadgets wirelessly, including handsets from Nokia, Motorola, Blackberry and Apple; it can also charge a range of MP3 players.
The super thin charge pad knows when a compatible device is placed on it, instantly beginning the charge. The pad will then turn off automatically when nothing is present.
Various sources speculate that this technology has been licensed from WildCharge, which released its extremely similar wire-free solution earlier in the year. This news comes shortly after the Wireless Power Consortium announced that they were edging closer to finalizing an industry standard for wireless power.
The myGrid is due for release in October, although no price has been announced.
[Via PhoneMag]
Follow GeekTech and Chris Brandrick on Twitter.