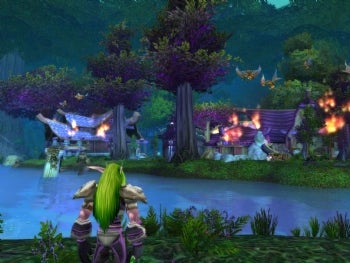 The latest victim of accurate pre-announcement leaks, Blizzard revealed that those World of Warcraft 'Cataclysm' expansion rumors you'd been reading about are true during the inaugural moments of BlizzCon 2009. BlizzCon is Blizzard's annual games convention (because if you made games with over 10 million suscribers, you'd have one all to yourself too) taking place today and tomorrow at the Anaheim Convention Center.
What else? James Cameron's partnered with Blizzard to bring upcoming film Avatar's 3D tech to the expansion, and Deathwing the Dragon is back as a boss. Also: During closing ceremonies tomorrow, Ozzy Osbourne will perform live. Only one of these things isn't true.
What's 'Cataclysm'? Bad news for the lands of Azeroth, which translates as good news for gamers bored to tears with the status quo. Cataclysm will apparently shake things up in all of Azeroth's existing play zones. From the trailer:
As the terrible war against the Lich King continues, the proud defenders of Azeroth fight to secure a lasting peace. But there can be no peace when the world itself is devoured by rage. [Cue veins of lava forking through volcanic turf.] An ancient evil has risen determined to shake Azeroth to its foundations, and the world will never be the same. As the elements battle for supremacy Kalimdor and the Eastern Kingdoms have been transformed. Ancient lands have been torn asunder, unleashing widespread destruction. But newfound life has also awakened. New conflicts erupt as old enemies vie for control of the world's diminished resources. At the heart of the ocean, the maelstrom churns endlessly.
And so on. (See the official trailer below for the rest.) Sounds pretty grim. I mean, try singing some of those lines like Bruce Dickinson of Iron Maiden: "Ancient lands have been torn asunder! Unleashing widespread destruction! At the heart of the ocean, the maelstrom churns endlessly!" Yeah, definitely Iron Maiden-y.
From the official expansion FAQ.
Two New Playable Races: Adventure as the cursed Worgen [werewolves!] with the Alliance or the resourceful goblins with the Horde.
Increased Level Cap: Advance to level 85 and earn new abilities, tap into new talents, and progress through the path system, a new way for players to customize characters.
Classic Zones Remade: Quest to level 60 as you never have before. Familiar zones across the original continents of Kalimdor and the Eastern Kingdoms have been reforged by the cataclysm and updated with new quests and content
Flying Mounts in Azeroth: Explore Kalimdor and the Eastern Kingdoms from a whole new perspective.
Guild Advancement: Progress as a guild to earn guild levels and guild achievements.
New High-Level Content: Explore newly opened parts of the world, including Uldum, Grim Batol, and the great sunken city of Vashj'ir beneath the sea, and enjoy even more high-level raid content than in previous expansions.
New PvP Zone & Rated Battlegrounds: Take on PvP objectives and daily quests on Tol Barad Island, a new Wintergrasp-like zone, and wage war in all-new rated Battlegrounds.
Archaeology: Master a new secondary profession to unearth valuable artifacts and earn unique rewards.
New Race and Class Combinations: Explore Azeroth as a gnome priest, blood elf warrior, or one of the other never-before-available race and class combinations.
Ten bucks says Ozzy sings "Bark at the Moon" accompanied by Worgren footage.
Follow me on Twitter @game_on.