Apple is still reviewing the Google Voice iPhone application, and AT&T has not played any role in that review process, the companies told the U.S. Federal Communications Commission on Friday.
Google Voice has not been approved for distribution to the iPhone, and on July 31, the FCC questioned Apple and AT&T about their treatment of that and other proposed iPhone applications. It also questioned Google about its iPhone application and the approval process for software on its own Android mobile platform. All three companies submitted responses on Friday.
Apple said it has not rejected the Google Voice iPhone application but is still studying it. In response to pointed questions, both Apple and AT&T said the iPhone maker did not consult AT&T about Google Voice and that the carrier has not been involved in evaluating it. They said Apple typically does not consult AT&T about decisions on what applications can be offered in the iPhone App Store.
Taking Care or Quashing Rival?
Google Voice would let users make calls on the smartphone while also providing voicemail, text messaging and contact management features. The fact that it has not been approved for the iPhone has heightened criticism of the review process for iPhone applications, which critics say is murky and unpredictable.

In the case of Google Voice, some observers suspected AT&T had squelched the software because it feared competition for its own voice services. In questioning the companies, the FCC cited pending proceedings at the agency concerning open access to wireless networks and exclusive deals between handset makers and carriers.
Apple told the FCC that Google Voice hasn't been approved because it appears to replace the iPhone's core phone functionality and user interface with its own interface for phone calls, text messaging and voicemail. The application also transfers the user's Contacts database to Google's servers, "and we have yet to obtain any assurances from Google that this data will only be used in appropriate ways," Apple wrote.
The FCC had also questioned Apple and AT&T about third-party applications that make use of Google Voice. Along with Google Voice, three other applications — GVDialer from MobileMax, VoiceCentral from Riverturn and GV Mobile by Sean Kovacs — also raise issues that Apple is still studying, the company wrote.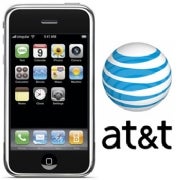 Apple said it alone makes decisions about whether applications are allowed on the App Store. However, AT&T told the FCC that as part of their iPhone partnership, "AT&T and Apple agreed that Apple would not take affirmative steps to enable an iPhone to use AT&T's wireless service (including 2G, 3G and Wi-Fi) to make VOIP calls without first obtaining AT&T's consent." Apple said it also respects AT&T's customer terms of service, such as its rule against using the cellular network to redirect a TV signal. Apple said it doesn't even know whether there is a VoIP (voice over Internet Protocol) element to Google Voice.
Apple noted that iPhone users are free to use the Web-based version of Google Voice and that there are other VoIP applications, including Skype, that can be used with the iPhone over Wi-Fi networks.
Asked how Google Voice works, Google told the FCC the application uses the carrier's own voice network for placing outbound calls using a Google Voice phone number. Its voicemail and SMS retrieval services use the carrier data network and require underlying phone and SMS services. Sending SMS messages that display a Google Voice phone number uses the carrier data network.
AT&T said it has talked with Apple about "a handful" of applications submitted for the iPhone. The companies discussed potential congestion caused by streaming audio services from Pandora and AOL, and Apple upgraded the technology used to stream the services. They also looked at whether a proposed streaming media service from CBS and MobiTV for the U.S. men's college basketball tournament would congest AT&T's network. CBS and MobiTV changed that application so its live video feature would only work over Wi-Fi.
Critics Weigh In
Free Press, a group advocating network neutrality, said AT&T's statement about VoIP proves the carrier plays a role in determining what applications can be offered for the iPhone.
"We applaud the FCC for this timely intervention. AT&T has been caught with its hand in the Apple jar. This inquiry has exposed the central issue of who controls the mobile Internet," Free Press said in a statement Friday.
The letters sent to the FCC Friday contain a treasure trove of information from normally secretive companies.
Apple said it has reviewed more than 200,000 applications and updates for the App Store and approves about 95 percent of them within 14 days of their being submitted. Approximately 8,500 proposed applications and updates come in each week, and about 20 percent are not approved as originally submitted, Apple said.
The company has a team of more than 40 full-time application reviewers, and at least two of them look at every submission. The software undergoes a rigorous review process that looks for bugs, instability and the use of unauthorized protocols. They also consider privacy issues and inappropriate content. An executive review board meets weekly to set standards and procedures and review submissions that raise new issues.
Asked to describe its approval process for Android applications, Google said there is an automated analysis to identify technical issues that would prevent the application being installed. It's up to the Android Market itself to police applications, and Google staff will review those that receive a certain number of "flags" from users. Google could remove applications if they violate the company's developer agreement or content policies. About 1 percent of all submissions have been rejected, mostly for impermissible adult content or copyright violations, the company said.
At Google's request, the FCC redacted the company's answer about discussions it had with Apple over Google Voice. Asked whether it has any other proposed applications pending for the iPhone, the company said it does not.