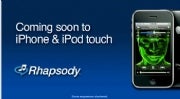 RealNetworks wants to put Rhapsody, its music subscription service, on the iPhone. The application has been submitted to Apple and, if approved, will offer users unlimited music streaming over Wi-Fi, 3G and Edge for $15 per month.
Offered as an alternative to the iTunes 99-cent-per-song pricing, Real's Rhapsody iPhone and iPod Touch app can stream to your phone an unlimited number of songs for just $15 per month with a Rhapsody To Go Account. The application will be free to download.
The big question now is whether or not Apple views the Rhapsody iPhone app as duplicating features offered by the iPhone, confusing users, and presenting a privacy problem. These were all factors Apple outlined on Friday for rejecting Google Voice iPhone app.
For existing Rhapsody music subscription users, the app will work only with the new $15 To Go account, and the offer is not extended to existing Unlimited service subscribers ($13 per month). The Rhapsody library offers more than 8 million songs, according to Real's blog post on the announcement.
The guys over at Gdgt, who already had a hands-on with Rhapsody for iPhone, note that the app is lacking the capability to store songs for offline playback. This means that when out of Wi-Fi of cellular data reach, or when in offline mode (such as in an airplane), the app will be unusable. Gdgt mentions, though, that this functionality would arrive in a 2.0 version of Rhapsody for iPhone.
Real said on its blog that the company is also working diligently on Rhapsody for Google Android and, soon, for other mobile platforms and carrier app stores. Meanwhile, Spotify, a music streaming service, is readying an iPhone client as well. Spotify's iPhone app will offer unlimited playback of advertising free music, with local storage of playlists, for $14 per month.
And for a sneak peek at how Rhapsody for iPhone works, Real made a little presentation video, embedded below:
Rhapsody on iPhone from Jamie on Vimeo.