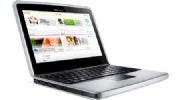 Nokia will join the ranks of netbook manufacturers with a stylish Windows-based offering called the Nokia Booklet 3G. It will have the looks of an Apple notebook and the guts of a PC. The netbook, according to Nokia, will have close ties to the company's Ovi suite of online services and mobile applications currently available to Nokia handset owners.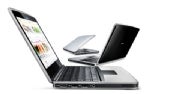 The aluminum-encased Booklet 3G will be powered by an Intel Atom processor and deliver up to 12 hours of battery life "enabling people to leave their power cable behind and still be connected and productive," the company said in a statement. The Booklet can connect to the Internet either by the built-in 3G card or by catching a Wi-Fi signal. It'll weigh 1.25 kilograms (or just under one pound) and slip by at "slightly more than two centimeters thin (0.7 inches)."
Detailed specs, market availability and pricing will be announced at Nokia World on September 2. But here is what we know, according to details included in Nokia's press release:
The Nokia Booklet 3G also ships with a GPS unit.
The 10-inch display will be glass, just like Apple's family of aluminum MacBooks, for improved HD- and media-viewing.
Built-in access to the Nokia Music Store
Netbook will allow you to sync data with your Nokia handset or to a Web-based storage service.
Booklet 3G will have hooks to Nokia's broad suite of Ovi services that include games, music and video offerings, and office productivity applications.
Judging from Nokia's press release, the Nokia Booklet 3G will give Apple a low-priced run for its money. Returning students are choosing Windows-based netbooks at a substantially higher rate than Apple laptops, and Nokia grabbed this info and combined the stylish features found in Macs with the low-budget appeal of a netbook.