Ever feel like you're missing out on the best of the blogosphere? I mean, sure, you visit PC World's blogs on a daily basis, and that's pure gold, but what about all the other stuff out there?
Pay a visit to Regator, which promises the "best posts" from the "best blogs." The site aggregates (it's an aggregator, get it?) posts culled from the Web's kajillion or so blogs, then serves them up for easy consumption.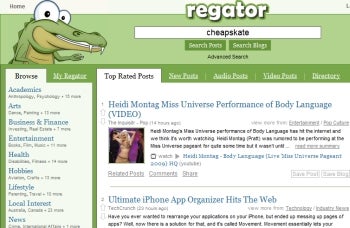 For example, you can browse the top-rated posts, browse by category, save and organize posts, search, create a personalized Regator page that'll include posts matching any keyword, and so on.
The site also serves up audio and video and lets you build custom RSS feeds if you want to add Regator material to your existing feed reader.
And good news for iPhone/iPod Touch owners: the new Regator app [iTunes link] puts most of these features into the palm of your hand. Like the site itself, the app is free.
I think my only complaint is that you can't suggest sites for Regator to include in its findings. But it's still a neat way to see what's happening in the blogosphere without trudging from site to site to site.