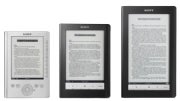 Only a few weeks ago Sony took the electronic book reader market by storm with its announcement of two new devices that undercut the popular Amazon Kindle by $100, but lack the wireless connectivity of the Kindle. Sony's latest announcement of a wireless-equipped ereader shows that the Kindle pricing is actually reasonable.
Sony unveiled the 3G ereader today. It will be available in December of this year at a retail price of $399 — a price tag $100 higher than the equivalent Amazon Kindle. It seems that making a cheaper device than the Kindle is one thing, but that making a comparable device cheaper is a horse of a different color.
So, the Sony Reader Pocket is a $200 device, but if you make the screen a little bigger and add 3G wireless connectivity the price doubles. Why does wireless technology add so much to the bottom line? It seems like there are a plethora of mobile phone devices and wireless broadband modems that provide the same functionality for much less money. Granted- they don't fit seamlessly inside your ereader, but you get the idea.
The electronic book reader market is still in its infancy. With big players like Sony and Amazon vying for market share it seems safe to say that it will not simply disappear overnight. What the market needs though is a much broader spectrum of devices from more vendors to increase volume and drive competition. A higher volume of manufacturing would help to drive down the price of the components that make up the devices. An increased number of vendors will force competitors to tighten their belts and sell at smaller profit margins to drive prices down.
As important as device components and competition are, a standardized ebook format is the Holy Grail that will ultimately determine the fate of electronic book readers. The Amazon Kindle has captured the imagination of some, but the high cost of the device itself, combined with Amazon's proprietary Kindle book format make it a difficult purchase for the average consumer to justify.
The Kindle books are generally cheaper than their tree-killing paper counterparts, but even if each Kindle book saves $10 you have to buy 30 books before you break even on the investment in the Kindle. And, you have to hope that the Kindle survives and that the format doesn't change or your Kindle collection will have to go in the attic next to your 8-track tape deck and your Betamax video player.
Dollar for dollar, it does seem like Sony is blazing new territory in terms of the functionality and value it provides with its e-readers. Sony has embraced the open standard e-pub format. The Sony readers can also read PDF and Word docs (the Kindle is capable through some convoluted process of emailing yourself the doc so it can be converted to Kindledom). Sony provides access to more than 1 million public domain documents available from Google, and an ability to check out books electronically from participating libraries.
Perhaps Sony or Amazon should explore either the subsidized device model of the mobile phone industry, or the subscription model of Netflix or Blockbuster. AT&T is providing the 3G wireless connectivity for the Sony device. Maybe they could also offer the device at a subsidized price under contract like an iPhone. Sony is providing public library access to check out books for free, but perhaps a model that lets users borrow two or three books at a time like a Netflix subscription would make an investment in the reader device itself easier for consumers to justify.
The battle between Sony and Amazon is good for the future prospects of the ebook market. The Kindle continues to be popular even with its proprietary format and $300 price. The Sony 3G offers more in terms of features and value, but at $400 it will still face an uphill battle against the Kindle. Eventually the format should standardize and the devices should be cheaper and everyone will win…except Sony and Amazon maybe.
Tony Bradley is an information security and unified communications expert with more than a decade of enterprise IT experience. He tweets as @PCSecurityNews and provides tips, advice and reviews on information security and unified communications technologies on his site at tonybradley.com .