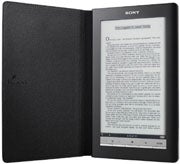 AT&T will power the wireless connection on Sony's newly announced 3G e-reader, the two companies have announced. The Sony Reader Daily Edition will start shipping this December for $399 with wireless connectivity automatically included.
Sony's New E-Reader
Sony's Reader Daily Edition is seen as a direct competitor to Amazon's 3G-enabled Kindle e-reader device, which uses Sprint Nextel's network for its wireless connection. The Reader Daily Edition will be 7-inches wide with an aluminum body and standard E Ink electronic touchscreen display. Sony says about 30 to 35 lines of text will be visible when the device is in portrait mode. It'll boast enough built-in memory to store around 1,000 standard e-books, with integrated slots for optional memory expansion.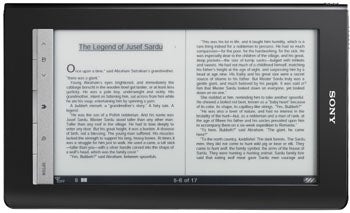 AT&T's E-Reader Connection
The deal to provide wireless service for Sony's new e-reader is AT&T's second step into the electronic reader market this summer. Just last month, the company announced it would provide 3G access for an upcoming Plastic Logic e-reader set to debut in 2010. (The Plastic Logic Reader will serve as the exclusive storefront for the Barnes & Noble eBookstore.) At that time, an AT&T exec discussed the "tremendous market potential" the company saw with electronic reading devices.
Precisely what AT&T gains from the deals, aside from exposure, has not been disclosed; however, speculation by The Wall Street Journal suggests the communications giant will likely receive a portion of the profits from all wireless purchases made through the e-reader devices.
"The deal with Sony reflects a concerted effort on AT&T's part to maximize use of its wireless network and develop new revenue streams," The Journal suggests.